Reverse combustion system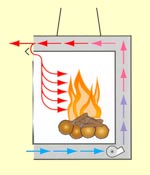 Saey's reverse combustion system means that lighting your
Saey insert stove
is very very simple. Larger pieces of wood are placed on top of the fire with progressively smaller pieces placed on top - esentially the reverse order used when lighting a 'standard' wood burning stove. The airflow for the reverse combustion first flows across the window of the insert stove, thus providing the airwash that will keep it clear.
Saey insert Fan system
The Saey Inserts Stoves (apart from the Sordo) all have an integral fan. This is used to help when lighting the stove, and to blow warm air into the room throuhg hot air vents in the stove.
Position 1

For normal use - the fan slowly turns and is therefore very quiet. The fan is switched on and off by an internal thermostat in the insert stove.
Position 0

If you do not want to use the insert stove fan then this is also possible.
Position 1

This is the 'Turbo-start' setting. Use this to get the fire going. This will help cope with a chimney that does not draw well untill warm or wood that is not perfect. This setting can also heat up the room more quickly as the insert stove will be going full blast.