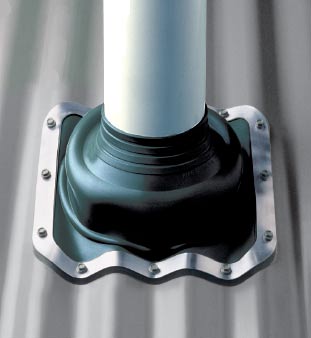 The Dektite Ezi-Seal is one of the easiest to install roof flashings. The Ezi-Seal is the ideal flashing for polycarbonate roofs as it seals well to the roof and does not react with the polycarbonate. Around the flexible base is a non porous sponge gasket that seals by compression. You can install an Ezi-Seal flashing even when the roof is wet!. No silicone sealant is needed - the base is simply fixed into place with self tapping screws or rivets. The EPDM cone of this roof flashing seals around the flue and can withstand temperatures of -50 to 115 degrees. Ezi-Seal is covered by a 20 year warranty.

The fixing kits come with self tapping screws - in some situations you will need to fix the flashing on with a nut and bolt, in which case please do not order the fixing kit although you may wish to order silicone.
This size chart will help you choose the right Dektite Ezi-seal flashing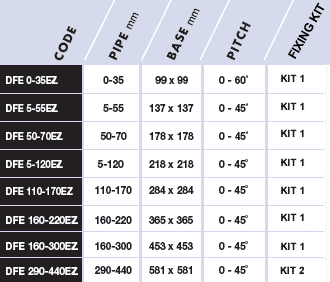 Contact Us

Ring Stovesonline on 0845 226 5754 | 01803 712316 When you ring Stovesonline you will never be held in a queue, given options or made to listen to music. If we are too busy to answer immediately then simply leave your name and number on the answer phone and we will ring you straight back.
Or write to us via our enquiry system
We pride ourselves on offering a great service before, during, and after you have dealt with us. We hope this will quickly becomes apparent to you. At the same time we like to balance that by being competitive and we are keen for you to choose us. If you happen to be offered a better deal elsewhere then we do not want to lose you so please let us know and we will do our best to match or beat it.
Want to run central heating and hot water from a boiler stove? Then a load valve or load unit will bring your stove up to temperature quickly and keep it there - that means more heat to the room, your stove will work more efficiently (cutting firewood usage), and you will get reduced tarring which means your stove will last longer too.