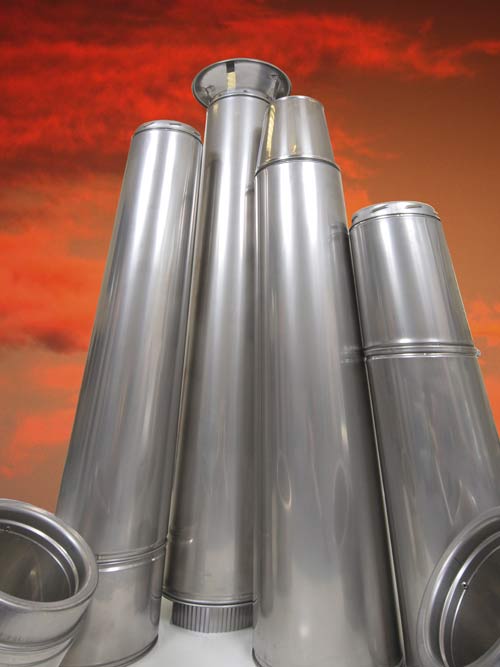 Selkirk STC - twin wall chimney. A twin wall insulated flue with welded seams and an inner layer made of 316 grade stainless steel, able to withstand corrosive flue gases given off by wood burning and multi fuel stoves. Selkirk STC flue can be used internally or externally as the outer layer is also made of stainless steel. The 25mm of insulation between the layers of Selkirk flue keeps the outside of the flue cool as well as ensuring that the flue gases remain warm, thus reducing the tar deposits that can cause chimney fires.

Let us do the work: use our complimentary
Flue Design Service
Selkirk twin wall flue has got around the problem of ventilated floor penetration components. Ventilated floor penentration components can allow the transmission of smoke into the room above. We see this as a big problem as most deaths in a house fire are caused by smoke inhalation. A new innovative ventilation system that has been fully tested and approved to EN1856 and allows the use of non ventilated floor penetration components when using Selkirk STC twin wall flue run through a bedroom or other storage space. Other twin wall flue manufacturers are now starting to see the sense of this and move to solid compontents. Click here for a broader discussion of the topic.
Selkirk also manufactuer an insulated roof penetration kit to avoid a cold bridge when penetrating a roof. You can find out more on this topic here

Selkirk flue may pass within 50mm of combustible materials making it very easy to install in existing houses. A full range of support components, bends and tees are also available.

Working lengths: 1181mm, 876mm, 572mm, 419mm, 267mm, and 114mm.

Given a few details we will design your Selkirk flue system for free - visit our Flue design page for more details.

125mm systems - building regulations advise a mimimum flue size of 150mm and HETAS installers may not fit or connect to a 125mm system. Read more about 125mm flue systems here.

Extra Selkirk flue information:
Flashings for twin wall insulated flue systems

Please be aware that we have three main types of flashings available for Selkirk flue systems going through tiled or slated roofs.

The first and most popular in the UK, is Lead Flashing.
A high quality code four lead, machine cut and welded specifically for Selkirk STC flue systems (as priced below), favoured by installers and developers as not only are they easy to use, but match the rest of the lead that is quite common on our properties.

Also, we have Seldek Nu lead and Alu Based flashings; suitable for just about any manufacturer of twin wall flue pipe or cylindrical pipe leaving a roof surface.

A large square based plate of lead, coated with Acrylead, which takes the form of any profiled roof tile, with an EPDM cone. This can withstand temperatures from -50 to 115 degrees, and seals against the flue pipe as it penetrates the flashing. This is also available with an Aluminium base, ideal for our flat slate roofs.
The EPDM cones are carefully cut to size on site, to suit the very diameter flue or pipe you are working with.

Selkirk flue introduction and information
Selkirk flue components - information about each component, how and where it is used. Also available as a

downloadable pdf
and

Stovesonline Selkirk flue fitting guidelines.



Official Selkirk flue brochure


Official Selkirk flue fitting instructions

Official Selkirk website
All prices are inclusive of VAT
Selkirk twin wall flue
Product
125mm
150mm
175mm
200mm
BASIC COMPONENTS
SELKIRK FLUE ADAPTER

£15.00
£16.50
£18.75
£21.00
INCREASING ADAPTER 100MM TO 125MM
£44.50
£45.50
£61.50
£77.00
ADAPTER TO FLEX
£27.00
£29.25
£33.75
£37.00
SELKIRK WESTFIRE FLUE ADAPTOR

£38.00
£38.00
£38.00
£38.00
INCREASING COSMETIC COVER RING - BLACK
£22.00
COSMETIC COVER RING - BLACK
£22.00
£23.50
£25.75
£26.75
INCREASING COSMETIC COVER RING - SILVER
£22.00
COSMETIC COVER RING - SILVER
£22.00
£23.50
£25.75
£26.75
SELKIRK FLUE LENGTHS
1200MM LENGTH

£133.00
£149.50
£174.50
£206.75
900MM FLUE LENGTH
£107.50
£118.00
£134.50
£161.25
600MM FLUE LENGTH
£67.75
£76.00
£87.50
£105.00
450MM FLUE LENGTH
£59.50
£67.75
£78.25
£92.25
300MM FLUE LENGTH
£52.50
£60.75
£71.25
£83.00
150MM FLUE LENGTH
£29.00
£35.00
£43.25
£49.25
ADJUSTABLE FLUE LENGTH
£76.00
£87.50
£100.25
£118.00
SELKIRK LOCKING BANDS

£9.25
£9.25
£10.50
£10.50
STRUCTURAL LOCKING BAND
£70.25
£76.00
£82.00
£91.25
SELKIRK FLUE ELBOWS AND TEES
45 DEGREE ELBOW
£90.00
£102.75
£111.00
£118.00
30 DEGREE ELBOW

£89.00
£99.25
£107.50
£115.75
15 DEGREE ELBOW
£89.00
£99.25
£107.50
£115.75
90 DEGREE TEE AND PLUG

£137.75
£162.50
£176.50
£215.00
135 DEGREE TEE AND PLUG

£190.50
£204.50
£224.50
£295.50
INSULATED TEE PLUG

£21.00
£23.50
£26.75
£26.75
DRAIN TEE CAP

£58.50
£63.25
£66.50
£69.00
SELKIRK FLUE SUPPORTING COMPONENTS
CEILING SUPPORT

£26.75
£29.00
£35.00
£52.50
ROOF SUPPORT

£42.00
£42.00
£42.00
£42.00
SELKIRK ANCHOR PLATE

£31.50
£33.75
£37.50
£40.75
ROOF BRACE KIT

£83.00
£83.00
£83.00
£83.00
STAINLESS WALL BAND

£31.50
£32.75
£33.75
£36.25
GALVANISED WALL BAND

£18.75
£19.75
£21.00
£21.00
WALL BAND EXTENSION BRACKETS (STAINLESS)
£13.50
ADJUSTABLE WALL SUPPORT BRACKET

£47.75
£53.75
£59.50
£60.75
INTERMEDIATE WALL SUPPORT BRACKET

£47.75
£53.75
£59.50
£60.75
SELKIRK FLUE PENETRATION COMPONENTS
VENTILATION GRILLE FOR BOXING IN
£9.25
£9.25
£9.25
£9.25
FIRESTOP SPACER

£4.75
£5.75
£7.00
£7.00
WALL SLEEVE

£28.00
£35.00
£40.00
£42.00
FLAT TRIM PLATE
£26.75
£30.50
£35.50
£38.75
45 DEGREE TRIM PLATE
£33.75
£35.00
£38.50
£43.00
30 DEGREE TRIM PLATE
£33.75
£35.00
£38.50
£43.00
ATTIC INSULATION SHIELD

£63.25
£70.25
£75.00
£77.25
FLASHING FOR TWIN WALL INSULATED FLUE SYSTEMS
20 DEGREE LEAD FLASHING
£85.75
£90.25
£112.00
£116.00
30 DEGREE LEAD FLASHING
£89.50
£94.00
£116.00
£123.50
40 DEGREE LEAD FLASHING
£93.75
£99.50
£119.75
£126.25
50 DEGREE LEAD FLASHING
£96.50
£102.50
£146.00
£126.25
SELDEK ALU ROOF FLASHING
SELDEK ALU ROOF FLASHING 160 300mm

£65.00
SELDEK LEAD ROOF FLASHING
SELDEK NU LEAD ROOF FLASHING 175 330MM

£78.50
SELKIRK FLUE TERMINATIONS
SELKIRK RAIN CAP

£31.50
£32.75
£37.50
£50.25
STORM COLLAR

£15.00
£16.50
£17.50
£18.75
VEDETTE ANTI DOWNDRAUGHT COWL

£135.00
£164.75
£198.00
£278.50
SELKIRK ANTI DOWNDRAUGHT COWL

£84.25
£85.25
£87.50
£89.00
TALL CONE FLASHING - FOR SEDUM ROOFS
£59.50
£66.75
£73.50
£82.75
Stainless aspirator spinning cowl c/w coupling
£200.25
£204.50
£210.25
£214.75
FLUE SUNDRIES
DATA PLATE AND CHECKLIST
£8.00
HEAT RESISTANT BLACK SPRAY PAINT
£10.50
HIGH TEMPERATURE SEALANT - BEIGE
£11.25