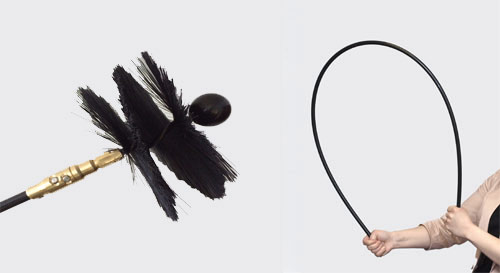 These Ultraflex nylon super flexible chimney sweeping rods are just the solution for sweeping bendy flexible chimney liners or twin wall flue systems with lots of bends and twists. Sometimes it is very difficult (or impossible) to get ordinary flue rods through a sharply bending flue liner or a twin wall system with a few 45 degree bends in it. Even if you do get the rods up sometimes damage is done to the inside of the flue by the relatively inflexible polypropylene rods. In such bendy flues it is also even more important to be able to sweep away tar and deposits as the flue gases will tend to slow and therefore cool at the bends. Because ultraflex super flexible chimney rods are made of nylon they are very very bendy. In fact these chimney rods can be bent back on themselves, not that they would need to do that in any compliant flue system!

To go with the rods there are nylon chimney brush heads in various sizes. These all have a guide ball to help the brush through bends in the flue. The soft nylon of the chimney brush allows it to easily get though a bendy flue whilst still removing deposits.
The fittings on our Ultraflex rods and brushes have changed from a single-pin with thread fitting before May 2016, to a double-pin, push fitting, no thread. The new style rods and brushes are not compatible with the old style, so please be aware.
We are out of stock of the 150 and 175 brush heads. We would suggest you buy the 200mm brush head and cut it down to size.
Contact Us

Ring Stovesonline on 0845 226 5754 | 01803 712316 | 01237 473900 When you ring Stovesonline you will never be held in a queue, given options or made to listen to music. If we are too busy to answer immediately then simply leave your name and number on the answer phone and we will ring you straight back.
Or write to us via our enquiry system
We pride ourselves on offering a great service before, during, and after you have dealt with us. We hope this will quickly become apparent to you. At the same time we like to balance that by being competitive and we are keen for you to choose us. If you happen to be offered a better deal elsewhere then we do not want to lose you so please let us know and we will do our best to match or beat it.
The range of stoves which are approved for woodburning in smoke control areas (most UK cities) has increased rapidly over the past year or two. Have a look at our smoke control zone page for more details.