Best stove installation Autumn 2012
It's time for round 2! A few people missed the first competition so here is their second chance. Wow us, and everyone else, with your stove installation. Please send in just one picture and it will be loaded onto our Facebook autumn competition album. The winner is the one with the most likes so you will have to get sharing, posting and cajoling.

First prize is a Stirling Engine Stove Fan which is really a lovely made machine, and useful too. A rather perfect Christmas present, especially if you win it for free!

Runner up prize is a Stovesonline Moisture Meter - which will help you keep an eye on how well your wood is drying and stop anyone trying to palm off wet wood on you. The backlight is handy in dark logsheds.


Best stove installation competition Autumn 2012 Winner
Esse Ironheart, Stovefitter, 50 Likes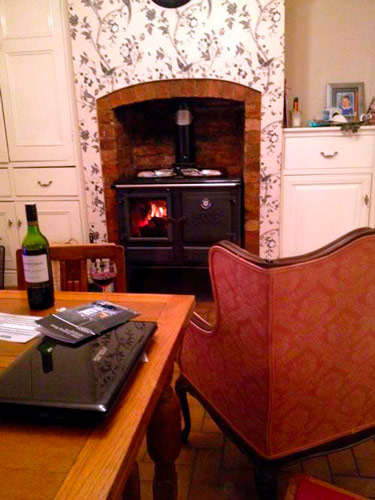 So the very clear winner of the competition was the Esse Ironheart installed by StoveFitter. With 50 Likes this picture was 35 ahead of all the others. A contemporary take on the traditional English range cooker, the Ironheart is a lovely stove and sits nicely in this traditional fireplace setting. The great thing about the Ironheart is that it is as at home in a kitchen as it is in a dining or living room.
So Mark Daniels of StoveFitter will be getting a Stirling Engine fan sent through to him shortly as the well deserved winner. Apparently there is the offer of baked potatoes for people who Liked the photo. What could be better on a cold day, sat around a range cooker watching the fire and tucking in to a steaming hot potato.
Best stove installation competition 2012 Winner
Invicta stove, Blaze Stoves, 113 Likes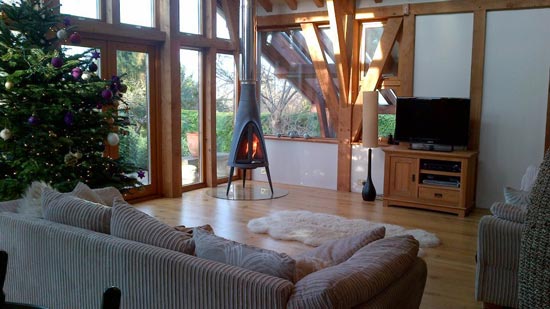 Best stove installation competition 2012 Runners up
Charnwood stove, Low Carbon Energy Centre, 47 Likes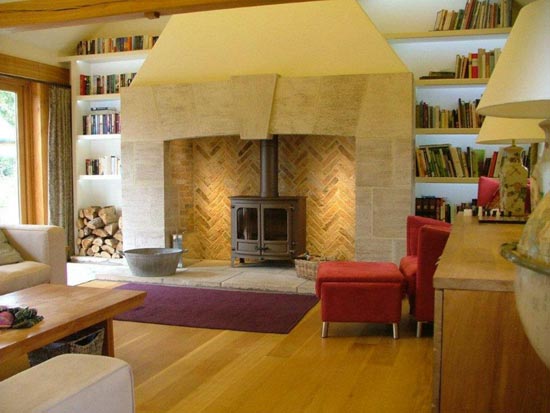 Westfire stove, City Arc, 52 Likes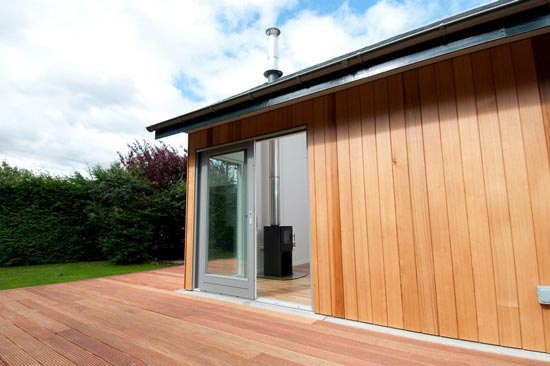 You can see all the entries on the Stovesonline competition gallery on Facebook
Well near the beginning of the competition we thought that we had a clear winner with the stunning installation of a Charnwood Island III stove in a newly constructed masonry fireplace by the Low Carbon Energy Centre (www.lowcarbonenergycentre.co.uk) with a total of 47 Likes and certainly the most comments of any of the entries. Certainly wood thought that it was very nice, Rebecca just said 'LOVE LOVE LOVE', Angela commented that looked really authentic, and Nicky even wants them to come out to New Zealand to install one for her!
Then we had the contemporary installation of a Westfire by City Arc (City Architecture Office Ltd). Likes for this installation very quickly rose, and stood at 50 by the end of the competition. Danja commented that the install was slick.
But the surprise very late in the race was the Invicta Tipi stove installed by Blaze Stoves which took us all unawares, 'blazing' through the finish line with a total of 113 Likes. Congratulations.
"Brady-Jay" commented that it looked stunning and Nikki says she wants one - well I think I know a good place for you to get one Nikki!
Stove installation of the Year 2012
So Blaze Stoves takes first prize! A Best of British hamper from John Lewis.
Runners up
The Low Carbon Energy Centre and EcoArc both get the runners up prize and will receive a House of Dorchester luxury chocolate collection box also from John Lewis.


Thanks to everyone who entered - there were some great entries. A couple of ones which I think also deserve a mention are:
Heather's installation of an Aarrow stove and new brick fireplace - she was the first entrant to the competition. Christina commented that it looked really rustic, and that the dogs must be as close as the dared.
Next we have the Esse 525 installed by Russ into a very ambitious house with an ingenious sliding roof. There is even a Youtube video of how the roof works, which you can get to by looking through the pictures on our Facebook competition gallery. John commented that he wanted to know what happened to the chimney when the main roof slides over. Apparently the flue swivels around to accommodate.
Lastly have a look at the end of the gallery at some of the designer stoves made by Oliver of Sense3d - they are dead cool, especially the one hanging from stainless wires. Carpenter Oak commented that they thought the Sense3d stoves were fantastic.
You can see all the entries on the Stovesonline competition gallery on Facebook