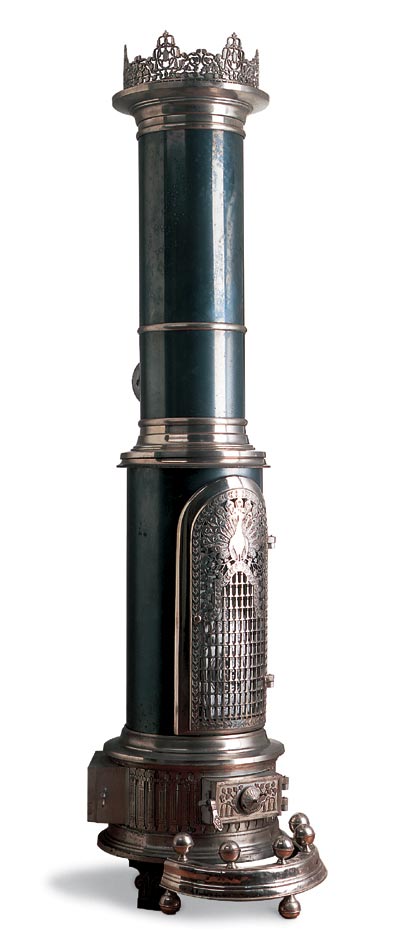 I was looking through some Morso stove pictures and turned this one up and thought that it was too good to just put to one side.
I remember seeing some of these when I was much younger. Stovesonline started when my father started restoring and bringing back to working glory of antique cast iron woodburning stoves just like this one. So a quick chat on the phone and I had the technical information on this stove from him.
This Morso stove is really stunning. Probably made sometime during the 1880's or 90's it has a proud cast iron nickle plated peacock as the centre piece on the main front door/cover. This is from an era when we valued decoration and the castings that resulted were intricate and often amazing. One can wonder whether the modern ethos of minimal 'clean' design, with flat surfaces without embellishment will one day be turned on its head and return to something more akin to this time. Does that clean and modern minimal white wall with nothing on it show that you are at the pinnacle of good taste, or just that you lacked the imagination to do something exciting with it?
Now back to the stove, and this is no ordinary stove, it is a convecting stove. You might have thought that convecting stoves were a recent development but that is not the case. Here we have a convecting stove from the Century before last.

The outer body of the stove you can see is made from steel with a polished gun barrel blue finish. The shiny parts are cast iron but nickle plated. Underneath all that the main body and workings of the stove is cast iron. Air gaps under the stove allow air to pass up and between the two skins of the stove and right up to the top crown and out as hot air. On some you had a lever that you could open to let regulate the air flow at the top at the crown. As a result this stove would have been relatively cool to the touch and the heat would have been more evenly spread through the room.
Inside the firebox is lined with firebricks and there is a riddling grate and an ashpan which you access through the bottom door.
Around 2/3rds of the way up on the left hand side you will see the flue exit. But why is it so low, or rather why is the stove so much taller than that, is it perhaps just for show? No; inside the top section is partitioned and the hot flue gases are sent right up to the top in one partition before being sucked right back down again and out of the flue exit.
Bear in mind that this stove is nearly 2 meters tall so by sending the smoke right up and then down again Morso extended the pathway by perhaps almost 2 meters. This extracted a lot more heat from the stove and meant that it would have been very efficient.
The whole thing comes to pieces; each of the sections and collars you can sit inside each other in such a way that they can come apart. It was essential that this stove could come apart because during this time Copenhagen was expanding rapidly and 5 storey blocks were going up all over the place. Each flat would have had a stove and so many people would have had to carry sacks of coal up 5 flights of stairs to their flat. If this stove could not have been taken apart then it would never have been possible to get it up into the higher flats at all.