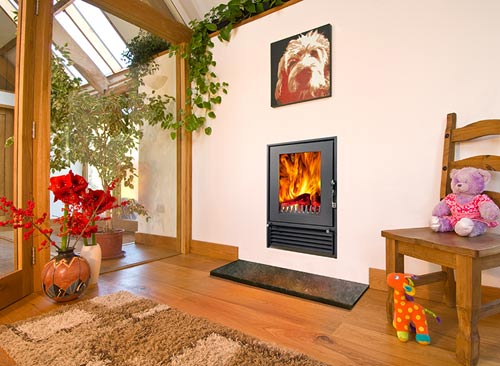 The Woodfire 12i has an impressive 82% efficiency rating. A solidly built stove, compact and easy to install and is compatible with both vented and pressurised systems.The 12i insert stove gives 10 kW heat to water - enough to heat the house and provide domestic hot water.

The 12i is a portrait insert stove and has been designed to use the maximum space available for the glass window, which is airwashed to help keep the view of the fire uninterrupted. When installed you will only see the front of the Woodfire stove and for re-fuelling the door opens outwards from the wall. The air control slider is at the bottom of the stove where you will also find access to the ash pan but, because it burns so efficiently, don't expect to find a lot of ash.

This inset stove would compliment any living space without imposing on the room.
| | |
| --- | --- |
| HEIGHT | 826 MM |
| WIDTH | 443 MM |
| DEPTH | 443 MM |
| DIMENSIONS | The front frame of the Woodfire 12i inset stove is 470mm wide, 832mm high. The legs of this stove stick out 70mm to each side and the height is adjusted by turning bolts fitted to the legs. |
| WEIGHT | 120 kg |
| FLUE DIAMETER | 150 MM |
| MAX HEAT OUTPUT | 12 kW |
| NOMINAL OUTPUT TO WATER | 10.8 kW |
| WARRANTY | 2 years |
| NOMINAL OUTPUT TO ROOM | 1.2 kW |
| DIRECT AIR SUPPLY | Yes - An external air kit is available which will allow you to supply the primary and secondary combustion air via an external air duct. |
| SUITABLE FOR PRESSURISED SYSTEMS | Yes |
| CLEANBURNING | Yes |
| AIRWASH | Yes |
| CAN HAVE 12MM HEARTH | No |
| FUEL | Wood |
| EFFICIENCY | 82 % |
| CO RATING | 0.9 % |
| TESTING STANDARD | EN 13229 |
| INSTALLATION CHAMBER INFO | The installation chamber for this stove should be ventilated. Please see our insert stove chamber ventilation page. |
| BROCHURE | View |
| BUNDLE OPTIONS | A bundle discount is available if you choose this Woodfire stove, a load unit, a flue thermostat, and an Akvaterm accumulator tank. |
Optional Extras
Automation Panel and thermostatic air controller 100mm
£280.55

The Woodfire 12i contemporary insert boiler includes free delivery within the orange area on the map. Further delivery details.
When you order your Woodfire 12i contemporary insert boiler from us it can come with any three of the following four things:
A length of single skin flue pipe allows you to connect your Woodfire 12i contemporary insert boiler to your chimney. Please ask a member of our team to explain the different lengths and types of flue component which you can pick from.
A Stovesonline firewood moisture meter: regardless of which stove you choose one thing which always has a huge effect on how well it will work is how dry your firewood is. Our moisture meter allows you test and measure that yourself.
A battery operated Carbon Monoxide and Smoke Alarm set. Fitting a CO alarm when you have a stove is not only a good idea, it is a building regulations requirement.
A copy of The Stove Book - a guide to using and getting the best out of your new stove, including in depth advice on how to source and season firewood.
When you are finalising your order with one of our team please just let them know if you would like to take advantage of this offer and, if so, which of the three items you would like. These items need to be specified when your order is placed.
Contact Us

Ring Stovesonline on 0800 246 1250 | 01308 458938 | 01803 712316 When you ring Stovesonline you will never be held in a queue, given options or made to listen to music. If we are too busy to answer immediately then simply leave your name and number on the answer phone and we will ring you straight back.
Or write to us via our enquiry system
Flue Design Service

Would you like us to design & spec. your chimney or liner system? Just use our
Flue Design Service
There are some easy things you can do to reduce your CO2 emissions right now - turn your heating down by a degree or two, draught proof windows and doors - you will save money too. See our CO2 reduction hints to find out more