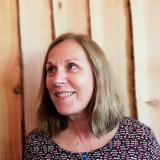 Juliet Nightingale
Chimney Design and Spares
helping people choose a suitable stove for their home, advising on deliveries etc. 

I also oversee the spare parts side keeping a close eye on our Stovespares website. I battle with exploded diagrams and parts lists and am pretty good at identifying mystery stoves. So, if you need an igniter for a pellet stove, a replacement baffle or firebrick, come to me.
My stoves
When I was first shown round my cottage by the estate agent, I thought I would love to have a stove in the old fireplace in the sitting room, where there had been the old boiler.  Three years on, I installed a Morso Badger which I am thrilled with.  I find it very easy to light and it heats up my sitting room in less than half an hour.  I am only burning wood as my brother is great at keeping me supplied with logs from the woodland where he lives, and where I used to look after sheep and cattle in my farming days.  In those days I had an old Rayburn in the kitchen which I used to cook on. It was great for cooking casseroles, leaving it for 4 hours while out at work, and then I would come back for lunch with the meal already.  There were the occasional times when the fire went out, then it was bread and cheese for lunch.  The Rayburn was fitted with a boiler which helped in providing the hot water.  In the sitting-room I had a very old Danish cast iron stove that I was given by John. This was top loading, and the logs would fit vertically, burning from the bottom of the log upwards, not a design that is seen so often these days with the contemporary design of stoves. The stove had mica in the door which you could just about see if the fire was alight through. I loved the art deco styling in the casting, probably because it reminded me of my arts background in silver-smithing and jewellery making.