Stovesonline are part of the Low Impact Network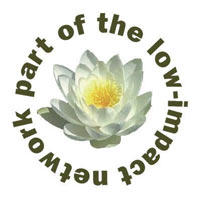 We are proud to be part of the Low Impact Network. The Low Impact Network is a network of organisations, people, and companies administered by LILI, the Low Impact Living Initiative. The members of the Low Impact Network have all been involved in renewables, green or eco sector, whatever you want to call it, before it even had a band wagon to jump on! A nice aspect of Low Impact is that as an ethos you would seek to reduce your consumption first before concentrating on switching your energy and materials sources to alternatives. This has great relevance to us when we perform a heat load calculation to see how large a boiler would be needed to run a house. As the figures come in we can flag up insulation improvements which will bring the heat load down. That means less wood is needed every year and a smaller boiler can do the job which means less expense and less use of resources.
Being a member of the Low Impact Network also means that each member answers relevant questions and queries posted to the LILI website and we also help to maintain LILI factsheets where appropriate.