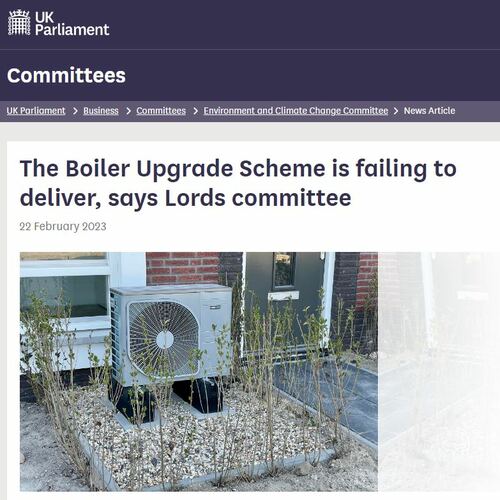 Rural support via the Boiler Upgrade Scheme slashed
9 months ago
The Boiler Upgrade Scheme is meant to support and encourage the transition to low CO2 heating systems in England and Wales. It replaced the Renewable Heat Incentive and started in April 2022.
The Lords Climate Change Committee recently assessed the Boiler Upgrade Scheme and found it to be failing to deliver fast enough. https://www.bbc.co.uk/news/science-environment-64710225
The scheme concentrates on heat pumps, with a smaller part given to biomass boilers limited to "hard to treat" homes.
Characteristics of hard to treat homes:
Rural
Often hard/expensive to insulate
Relatively high heat consumption
Single phase electricity supply, and prohibitively expensive to upgrade to 3-phase.
Often heated using oil - which has much higher CO2 emissions than gas
Many are generally unsuited to heat pumps
These hard to treat homes represent a big opportunity for reducing carbon emissions because of these characteristics.
All the affordable in-house pellet boilers were removed without warning
On Feb 24th Ofgem, without warning, removed all 15 in-house Klover wood boilers from the scheme eligibility list, leaving only what are called utility boilers on there. Most of these have been on this list for at least 9 years, for the duration of the RHI (renewable heat incentive) and now the Boiler Upgrade Scheme which followed on from the RHI. All these models are fully assessed and MCS certified, as is the Klover factory.
These represent roughly 50-60% of the biomass installations supported by the Boiler Upgrade Scheme, so this effectively slashes the rural support of the scheme by 50-60%
The fact that these boilers represent such a significant portion of this part of the scheme makes their move, and the total lack of communication, consultation, or warning about it that much more surprising.
This only leaves utility pellet boilers on the eligibility list
Utility boilers are a great solution, however they are only suited to large properties with spare outbuildings for installation and the initial install cost can be very high. In contrast the removed boilers can be installed in the house and connected to an existing chimney. This makes them both practical for the majority of hard to treat rural homes, and means there is a considerably lower initial outlay.
This limits the part of the BUS to an even more restricted set of hard to treat properties, the owners of which will need to be wealthy enough to afford the higher cost of the boiler and the higher installation costs.
Without in-house wood pellet boilers there is NO supported alternative to fossil fuels for the great majority of 'hard to treat' (ie not suitable for a heat pump) properties in the UK.
Significant impact on small local businesses
It is a small network of local businesses and engineers that we work with who install these boilers. We're not all driving Porsches and cynically profiting off of public payments - we're working hard together (or so we had thought) to decarbonise heating in the UK.
We have had an initial meeting with a BUS scheme administrator, representatives of Ofgem, and ESNZ facilitated by our local MP for which we are grateful. We hope that sense and clarity will prevail, and more than that - we hope that we can encourage a more collaborative approach throughout the scheme because what's urgently needed is to scale up decarbonisation, and to do that is a challenge that it's best to work together on tackling.  

The challenge here is very much on how to scale up the response, not how to unnecessarily curtail it. If this continues these businesses will be in a precarious position, will need to consider redundancies, and decarbonisation of rural heating will take a further step backward.