Our searchable coal merchant listings are now unfortunately offline.
It's not all doom and gloom - reducing your heating needs by insulating your house better is a great idea and of course heating with wood is one of the great ways of providing low carbon heating. There are many wood burning stoves available and we carry a UK firewood supplier search facility, as well as a UK wood pellet supplier search facility.
Visit our greenhouse gas reduction tips page for more ways in which you can reduce your greenhouse gas emissions.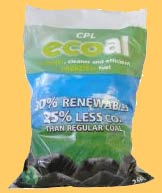 CPL recently launched ECoal - a coal with a 30% renewable content. Burned on a 70% efficient multifuel stove this will result in 12% less CO2 emissions when compared to burning anthracite. Ecoal is a smokeless fuel and can therefore be used in smoke control areas. As technology improves CPL hope to increase the renewables content of Ecoal. So, if you absolutely have to use coal, then use Ecoal.

CPL: CPL website here, Tel: 08545 671 1122