If you have had a load of firewood from aandswoodlandmanagement then help other people by leaving a firewood moisture reading report. This shows how good the quality of the firewood is and so is a good way to rate the supplier. If you are unsure then further down on this page I show you, step by step, how to take the readings.
We need your name and some way of contacting you so that we can get hold of you if we need to query anything about your report. We do not display your name or your email address on the website. We do not share them with anyone. We will not start sending you endless emails.
Properly seasoned wood is key to stove performance
The amount of heat you get from your stove is most affected by how dry your firewood is. If your firewood is not well seasoned then you are just not going to get any heat out of your stove, no matter how efficient it is, nor how much money you spent on it. It will be hard to light the stove, the window will tar up, as will your chimney. A moisture meter is an easy way to tell how well seasoned your firewood is. When properly seasoned firewood should give a moisture meter reading of 20% or lower. Some at 25% is not the end of the world, but not the whole load.
How to take the firewood moisture readings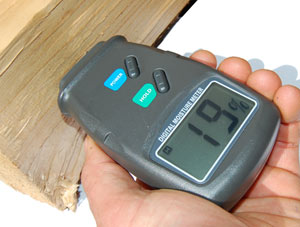 Get five random logs from your load of firewood (ideally before your supplier has unloaded any logs, and before you have paid). Split the log in half and pick up one half. Take your moisture meter, press the power button to turn it on, and test the split face of the log in your hand by pushing the pins gently in. Do not try to test the end grain, nor any face of the log that has been exposed to the air as this will give you a lower reading. Write the reading down. Now repeat for the other 4 logs.
You will now have 5 readings. If the readings are around 20% then that is a good quality firewood, between 20-25% is OK but not great, above 25% and it is not technically firewood - it is unseasoned logs which will one day be firewood when it has dried and you should be looking to refuse the delivery or pay a lower price as you will need to season it yourself before burning. Remember if your wood is wet then your stove won't work well - you are essentially paying for water which you are trying to burn - hence the price per kW is much much higher. Plus your chimney will tar up which is dangerous as you risk having a chimney fire.