Regs compliant stove and chimney installation designs

We take the headache out of chimney design and stove installation.......We can design and supply everthing you need, and can usually have everything on site within 24hrs if required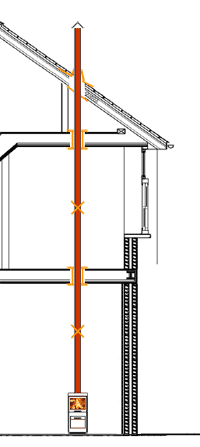 Whatever the size of your project our chimney experts will be pleased to design your regs compliant chimney systems and stove installations. We also offer advice on the choice of stoves available, best practice regarding chimney design and construction, both before and during installation. Our chimney designers will also liase with your installers if needed. We take the headache out of chimney design and stove installation.
Our chimney designers have been designing chimney systems that comply with Document J for many years, and so know solutions to all the problems you are likely to come across (and many more besides).
We can design and supply everthing you need, and can usually have everything on site within 24hrs if required.
There are several compliant chimney systems to choose from and our designers will consult with you and advise you on the one most suitable to your needs.
Wood stoves are also an attactive additional feature for any new home.....
Document L and wood stove pages:
1 - What is Doc L?
2 - CO2 emissions from fuels
3 - Effect on SAP calculations
4 - Fuel prices
5 - Consultation and installation design by experts in the field
6 - A stove is a valued feature in a house
7 - Summary