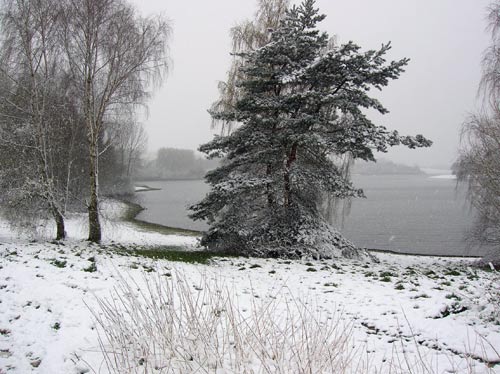 Juliet - who manages our stove spares department - emailed me the picture above in which she took near her house. Snow is across all the headlines in the UK at the moment - probably because we haven't had a decent snowfall for years. Now I am one of those that love the snow, like the millions of children across the country who are rejoicing that they will be off school and able to go out and have snowball fights, build snowmen, or grab a sled (or fertiliser sack full of straw as I used to) and go tobogganing. Hopefully us adults (those off work anyway) can also manage to enjoy this bonus time off they have been given.
Westfire Stove installation
I am sitting in my office very cosy because I installed a Westfire 15 stove at the weekend - what good timing! The Westfire 15 is a tall stove with a curved glass window on the front and is really a bit oversized for my office but I couldn't resist. I only have to light it for a couple of hours and then the office stays nice and warm for the rest of the day as I added mega amounts of insulation a week or two ago - no point wasting heat. The installation only took me around 3 hours as the EPDM flashing I used goes in so easily. The Westfire's flames are whirling around the firebox behind me whilst the snow is drifting this way and that in the window, and the sun has just come out too. I hope it doesn't melt all the snow, not yet anyway.
Our stove deliveries have of course been affected by the snow but the drivers and depots are all doing their best and many have still got out to our customers as they should have - we appreciate your understanding.
Ben, my cousin and relatively new member of Stovesonline, fell down mid snowball fight yesterday and had to go to A & E. He is fine and said "I now have a wobbly knee and spent a few hours in a queue of similar snow related mishaps".....