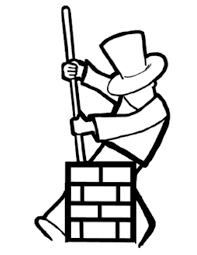 If you used to have an open fire and you have now put in a wood burning stove you might find that your chimney sweep or installer is advising you to put a liner in the chimney.
This might surprise you lots of people might have told you that the open fire was dirty and inefficient. Your sweep might have done your chimney every year while you had an open fire and found it relatively clean and the wood burner is burning at much higher efficiency and therefore surely it will produce much less soot?
Well yes and no! The open fire would have sent around 80% of the heat up the chimney which is not great for heating in the room but from the point of view of your chimney the smoke is going up that much hotter so any deposits are more likely to go into the atmosphere.
The modern stove on the other hand will often have an efficiency of around 80% meaning that 80% of the heat is going into your room and the smoke will therefore go up the chimney that much cooler.
If you are burning wood that is a little wet or the chimney is very big and cold the smoke will deposit soot in the chimney rather than the atmosphere and you would do better to keep the much cooler flue gases warmer as they go up the chimney inside a smaller metal liner. If it is a very big cold chimney you might wish to insulate the liner too.
You might have your own sweeping brushes for cleaning your brush at very regular internals in order to get a feel for how much soot is building up and lower your risk of a chimney fire.
If you have a wood burner it is likely you have already gathered a fair amount of knowledge about types of wood, the drying process of wood and how to use your stove to get the best performance, heat output and burn it as clean as possible.
It is still a good idea to have a professional chimney sweep or installer service the stove and chimney at least once a year. Many installers will contact you a year after installation to check if you wish to have a site visit. Equally you might set yourself a reminder to contact them. They will be able to sweep the chimney, check the stove to make sure the firebricks, rope seal and grates are all intact and therefore making sure it works to the best of its ability.
The sweep will also be used to the warning signs and spot potential problems early; the smell of soot seeping through a chimney, a wood joist disappearing into a chimney in an older building.