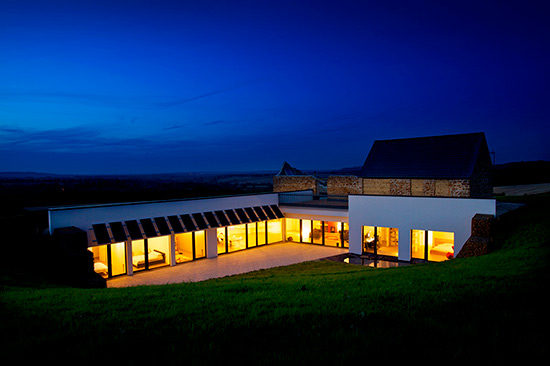 Jamie, our head of heating systems, is on his hols so I have been doing some real work! Its nice talking with our customers, to hear what you need, how we can help you and to stretch my grey cells.
One example of many is a wood boiler stove for a Passiv Haus – I need to make sure that it doesn't overheat the house so that the owners are not left sitting around in their pants. Airtightness and ventilation are key issues. The biggest issue for me is that a Passiv Haus will be very airtight and when you open the door of a stove air needs to rush up the chimney at a great rate of knots, or the stove will smoke into the room. On the flip side people designing and building to Passiv Haus standard spend a great deal of time and attention making sure its airtight and will definitely not want an open air vent to the room. Luckily our AirSmart controller gizmo solves that: it will not only automatically control the stove, turning it up and down as needed but it can open an air vent to the room, and optionally can switch off MVHR, when the stove door opens. Oh yes it will shut down the stove if there is a power cut, and open the vent to the room.
Now this chap wanted to contact someone who has lived with a stove in a PassivHaus so I connected again with the fabulous Helen Seymour-Smith. If you need a Passiv Haus designed and/or a para 55 house Helen knows her stuff: she designed the first Passiv Haus in England, and a para 55 to boot, high aclaim indeed - check it out here: http://www.seymoursmith.co.uk. The picture above is of her chapter 55 house. Her project was a pleasure and honour to work on.
We also need a suitable chimney – so an airtight system with 0mm to combustibles modular pumice from Schiedel is the way to go. These highly insulated houses tend to have very thick roofs made of flammable insulation – so detailing how the chimney runs through there is vital.
We hook the stove up to a one of our Energystore BioQuattro thermal stores. These are designed by us for biomass, solar thermal and other renewable inputs. The solid insulation is thick to keep heat losses way down. We do them to custom sizes but this project can use one of our off-the-shelf models. Actually they are big and heavy so sit on the floor in our warehouse, off-the-floor doesn't have the same ring to it though. It'll likely route via one of the registered Firepower installers and as it progresses we will then liaise with the engineer to make sure it goes smoothly. Supply and fit in newbuild is at 0% VAT, but if it was a refurb or extension going in then it would still only be at 5%. Every bit helps.