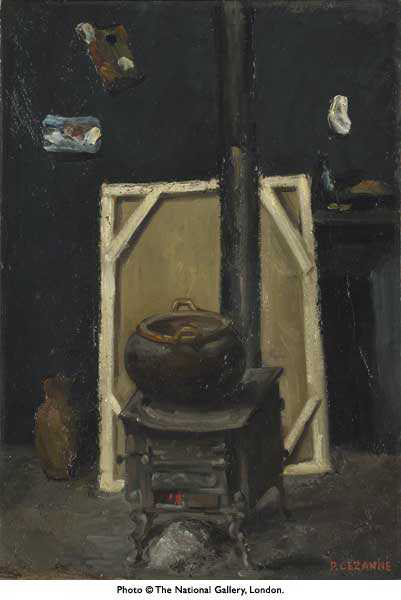 Earlier this week I escaped - or rather, thought I had, from the world of stoves, firebricks, baffles, grates and replacement door glass for the afternoon. I caught the train up to town and headed for the closest public gallery to look at something completely different.
I wandered about, first discovering the impressionist paintings of Sisley, and then diverged to further 19th and 20th century painters.  To my great surprise, there in the corner of the room was a little dark painting of Cezanne's.  I could not believe it, this little study was of his stove!  There it was, a little black cast iron stove on bendy legs, with a large pan sitting on the top, presumably filled with water for a cup of tea, or maybe it was for cleaning brushes.  There is a glimmer of the fire through the little open door at the front of the burner and a pile of grey ash on the floor. Leaning on the wall behind is a large canvas with it's back to us, almost framing the stove that sits in front. The straight black flue pipe almost divides the painting in half.  A lovely study, which gives a minute snapshot of what his studio and life was like.
I have always loved Cezanne's work and now I feel I have an even closer affinity, all down to his painting - The Stove in the Studio.
When you next have 10 minutes to spare and find yourself in Trafalgar Square, why not drop in to the National Gallery and see what surprises are in store.