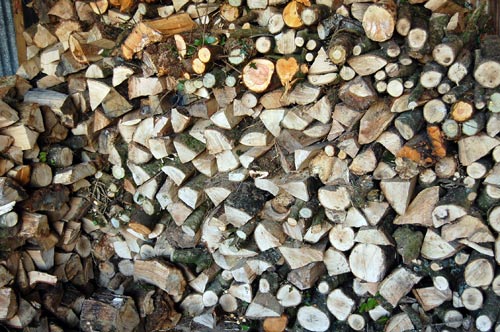 Now is the end of the tree cutting season - the sap is rising in most trees now ready for buds and leaves to appear and this makes the wood much higher in water content. A tree that might have been 35-45% moisture content can now be much higher - more like 50-60% - and this means it will take that bit longer to dry. Birds have also already started nesting so I'd rather not disturb them if I don't have to. I have been getting my wood ready for next year and the year after - some of the wood like the ash will be ready to use as firewood next year, but the oak will need at least 2 years seasoning before it is really ready. I am stacking the wood in rows 2 logs deep in an open fronted barn, and leaving air gaps in between to let the wind in to drive out that moisture. Spring is a good time to buy in some cheaper unseasoned timber for next year or the year after ideally. Make sure that you ask for unseasoned timber and make sure it is cheaper than seasoned (or what they claim is seasoned).
This year, in general, firewood suppliers have been supplying rather wet firewood. In fact you can;t really call it firewood, as firewood by definition is 20% moisture or less. It should be called chopped unseasoned wood, and be sold at a fraction of the price. Of course the supplier will try to maintain that their wood is just fine which is when a moisture meter comes in handy! A classic sign of seasoned timber is that the end grain develops lots of little cracks in it (not all timber does this), plus the wood should not have that characteristic unseasoned wood smell.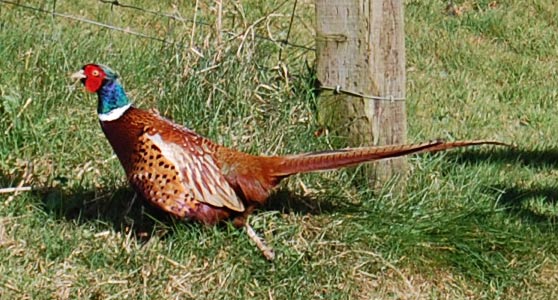 On the way to the barn to the wood pile Peter the pleasant pheasant made an appearance. Peter is trying his best to avoid being shot, and so wanders in from time to time and tries to camouflage himself amongst the chickens - fat chance: Peter is far too beautiful and stupid to be able to pull it off! But I do hope he makes it - I think the chickens quite like him.