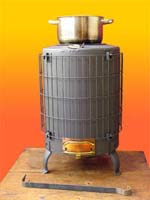 In the Winter of 2005 we supplied 500 stoves and flue kits to Cromwell International, a UK based exporter, who shipped the stoves as part of the relief effort by UN agencies to Pakistan.

These stoves were intended primarily for heating but their flat tops also make them ideal for cooking. The easy to assemble flue system means that they are very quick to install - and simple and intuitive to operate.

These stoves are a variant of our workshop stoves that we had specially made.