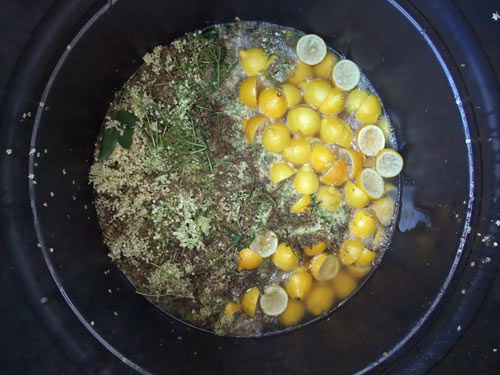 First you take a hot summer's day in the Devonshire landscape. Secondly a stroll in the countryside looking for Elderflowers just out at the moment. These should be fresh white flowers (not browning). Try to be gentle when picking so as to keep the pollen in the flowers. Do not pick all the flowers off a bush/tree and have respect for the plant as you pick them. Do not wash the flowers.
A shopping trip for lemons and sugar comes at some point....
The recipe used year after year. This is per lt - simply increase the quantities as you wish:


Squeeze six lemons and put the juice in a bowl - we use a whizzer.
Add the rest of the lemons to 1 lt of water and heat in a saucepan.
When boiling add 1kg sugar and turn off the heat.
Add 25 large elderflower flower heads.
Add the jiuce of the lemons.
Stir to mix.
Leave standing for at least 24hrs (you can leave it up to 4 days), stir a couple of times to mix the sugar in.
Strain through muslin. Don't forget to squeeze the flowers and lemons.
Decant into into appropriate bottles - we reuse the same plastic screw top bottles every year.

For elderflower champagne dilute the cordial to taste and pour into a bottle - either a champagne/cava bottle and appropriate cork or a plastic fizzy water or soda bottle. Leave somewhere warm for a couple of days - you will feel the plastic bottle go tight with the pressure. Cool in the fridge and drink very soon as it doesn't last long!

To pasteurise: stand the bottles in a large saucepan of water with the lids gently resting on top of the bottles. Heat till the water around the bottles is boiling and the elderflower cordial inside them is nice and hot. Put the lid on tightly and stand to cool. We have bottles from 2yrs ago that are fine.

Finally sitting back under the parasol chilling with a long soft drink.
Cheers.