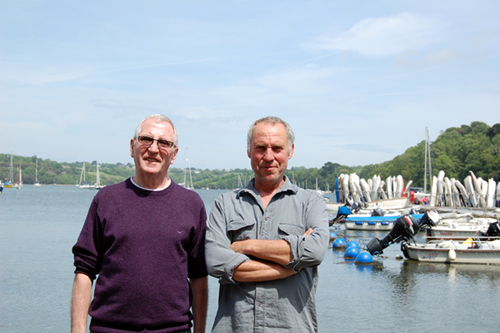 Alan Hooper joined us in 2003 when Stovesonline was still a partnership run by my father John and myself (Sune). Together we formed Stovesonline Ltd. It seems longer than 9 years ago when we all sat to sign the necessary paperwork. During those 9 years Alan has worked with us scrupulously and carefully. It is Alan that paid our suppliers bills, on time, every time. If a bill was £1 out, either up or down, then he would be straight on the phone to sort it.
Now at 74 it is now time for Alan to leave. Alan's first job was for a a builders merchant back in 1955 and he has never been on the dole and never been out of work. After that he worked for a while for a christmas hamper company then built up and managed the flue department of South West Woodburning for around 18years before (luckily) coming to us.
We went for simple goodbye a lunch down at the Ferry Boat Inn in Dittisham. The picture is of Alan with John afterwards. He looks good at 74 doesn't he.
Alan; it has been a great pleasure to work with you, you are a man of integrity, honour and humour, and we all wish you many of smelling the roses.