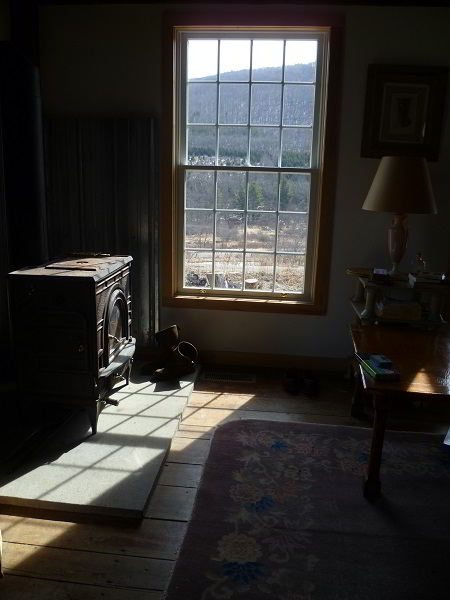 I have just come back from a short stay in the Catskill Mountains, not far from the renowned hippy town of Woodstock. I was delighted to find that the farmhouse in which we were staying was equipped with an old Vermont Dutchwest stove.
I have been selling Vermont stoves and their spares for many years but this was the first time that I had come face to face with the Dutchwest. I am usually studying complicated exploded diagrams trying to work out which part is the upper fireback, damper or andiron so I was excited to get to grapple with the vital organs of this american beauty. Vermont stoves are quite different from other stove makes. They could be considered more complicated - in many ways they are. Many of their models are fitted with a catalytic combustor which helps the stove burn more economically; this is controlled by operation of the damper. They also have a thermostat which allows the stove to run at your chosen temperature. What I liked about this Vermont stove was the side-loading door. This was new to me and I found it very convenient. I just opened up the side door and popped a log on top of the bright embers, it somehow seemed a bit less messy than using the door at the front of the stove which is what I have at home. But the main thing, as with any stove, it kept us beautifully warm in the snowy temperatures that we faced.
Soon after we arrived we walked down to the river and found signs of beaver activity and there were also deer living very close by. Driving at night was a little hazardous as you never knew when a deer was going to jump out into the road. I was told there were bears, but I didn't see one. We also visited waterfalls which were half frozen with beautifully formed icicles. It was very comforting to know that we had the warmth of the Vermont Dutchwest to sit round when we got back.