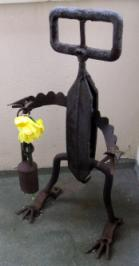 My father's brother was a metal worker - and produced many pieces of artwork in his workshop in Holte in Denmark. His name was Paul Berg and this little man stood outside my parent's house at all times.
When there was a birthday we would push a Danish flag or a balloon into his hand, when visitors came through the winter they would find him wearing a wool hat and scarf.
The children would tell him their secrets and try to hug his little body.
At Easter time a daffodil might be added. May you have a lovely Easter break and enjoy time with family and friends or in the company of an Easter Egg.