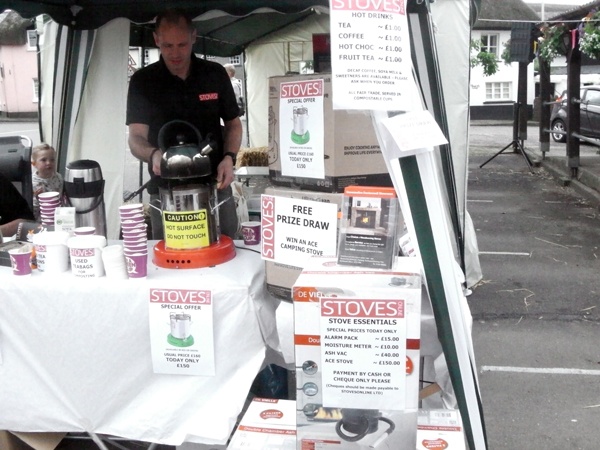 This year, for the first time, Stovesonline had a stall at St John's Fayre Witheridge.
We decided to showcase our smallest stove – the ACE camping stove – which we used to boil water for the hot drinks we sold. The stove worked really well, and although we were burning it continually for the day, the outer body stayed very cool, (despite the 'Caution – Hot Surface' sign we used to appease the Health & Safety requirements for a public event!)
We held a free prize draw to win one of the stoves, & used a piece of stainless steel flue pipe as a post box for the completed draw cards.
We also sold various stove accessories, such as ash vacs, moisture meters, carbon monoxide & smoke alarms, & the indispensable Stove Book, as well as giving help & advice about the rest of our range of stoves, boilers & flue systems. We had a larger gazebo set up as a seating area, using straw bales for seats, & had a range of brochures available for browsing.
The ACE Stove attracted a lot of attention, especially during the quieter moments, when we were better able to demonstrate the other features, such as the LED light, and USB charging port (it's very important to keep your phone charged at all times!).
Customers were impressed by the fact that the integral fan means the stove burns very efficiently, and is designed to be smokeless – ideal for camping purposes, but especially important for the stove's original purpose of indoor cooking in poverty stricken rural Africa. The fuel burns so efficiently that after burning an assortment of scrap wood, twigs & wood pellets for the day, there was barely a teaspoon of ash left inside. So not only efficient, but easy to clean as well!
All in all, we had a great day in Witheridge. Hope you did too. All being well, we'll see you again next year. If you can't wait that long, don't forget to visit our fantastic Showroom at Flightway Business Park, Dunkeswell, where we have over 50 stoves on display – if you say Hello to Jack our Showroom manager, and mention you saw this article on Facebook, he might give you a free hot drink; although we can't promise he will heat the water on the ACE camping stove!