Are you planning to only burn wood on your stove? Good idea, wood is sustainable and very low carbon. If you are only going to burn wood then you should chose a dedicated wood burning stove because it will work better and burn more efficiently.
For starters wood burning stoves often do not have a grate. This is because as wood burns it gives off gases, mainly carbon monoxide, which rise off the logs and burn above. That's why you see those tall flames in a wood burning stove but not in a coal stove. Coal wants a supply of air right near the fuel, which is why a coal stove needs a grate underneath: to get the air in to the heart of the fire. In a wood burning stove you normally burn the wood on a nice bed of ash. This makes an insulating base which directs the heat up into the firewood, helping it to burn better. Of course you need dry, seasoned firewood to start with, regardless of how good your wood burning stove is.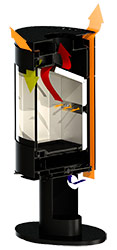 A wood stove needs a supply of air delivered above the wood. Typically you will see an air bar at the back of the firebox with holes or slots (see the orange arrows in the picture). When your stove is burning you will clearly be able to see the gases burning around these jets as they feed the fire fresh air. Once your wood burning stove is hot, if you play with the controls, you should be able to get it to the point where you see rolling flames literally hanging above the logs, its a great and satisfying pastime.
Firewood is also more bulky than coal so its a good idea to think about the size of the firebox in your wood burning stove. If there is no grate in the stove then you have already freed up a lot of extra space in the firebox for your logs. Its also worth considering how big your logs are going to be because it might be annoying to have to cut them smaller just because of the stove you picked.
We have a wide selection of different wood burning stoves in stock, each suited to a different need. I know that there are a lot of wood stoves to chose from – that's why we are here to help. We are definitely not one of those companies that try their best to avoid talking to customers, we'd love you to contact us, you can do so in many ways, and will help all the way on your journey to cosy warmth.