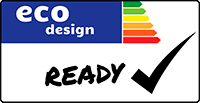 These boilers represent a big step forward in log gasification design.

1) One top mounted fan which draws the gases up through the boiler matrix rather than blows from the bottom. This keeps the boiler in negative pressure so:


no possibility of smoke leakage
no reliance on a natural draught
no need for an extra flue fan
no need for large diameter and high flues – the majority of the boilers have 150mm flues

2) The fan automatically ramps up when the door first opens and directs the smoke through a top by-pass.

3) Pre-heating of both primary and secondary air, so cleaner and more efficient combustion.

4) With no need for a lighting-stage by-pass the exchanger tubes are taking all the heat produced from the moment the fire is lit and the boiler automatically starts gasifying as soon as the conditions allow.

5) Pilot window on gasification chamber combined with the ability to do fine adjustments to both primary and secondary air inlets to tune the boiler to different installation situations.

6) Timed boost button – If the end user needs immediate heat then the boost button automatically ramps up the hot water production for a set time.

7) Built in recognition of a temperature drop in the boiler which automatically switches off the pump to preserve thermal store heat.

8) Large loading door – makes for easy loading and allows the user to fit in more logs and set them in a way that avoids cavitation.

9) Engineer friendly – straightforward installation and easy access for servicing.

10) Minimal and straightforward user maintenance – one handle to clean the heat exchanger tubes and easy ash removal.

11) Simple hinge adjustment to ensure total air tightness throughout the life of the door fire rope.

12) Overheat quench coil fitted as standard.

13) Removable log chamber side panels that prevent tar build up on the boiler walls.
14) Having no by-pass flap to remember to close removes the possibility of wasting a full logs load up the chimney.

15) MCS accredited and eligible for the RHI grant scheme

16) A+ and EcoDesign ready
Contact Us

Ring Stovesonline on 0800 246 1250 | 01237 473900 | 01308 458938 When you ring Stovesonline you will never be held in a queue, given options or made to listen to music. If we are too busy to answer immediately then simply leave your name and number on the answer phone and we will ring you straight back.
Or write to us via our enquiry system
| | |
| --- | --- |
| ECODESIGN READY | Yes |
| BROCHURE | View |
| MCS CERTIFIED | Yes |