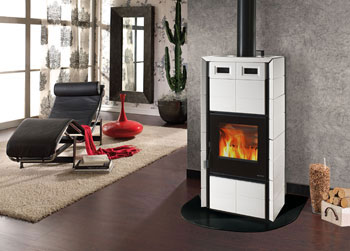 Here we have the first stove we have come across that can burn either logs or pellets. The Cleo Combi Fly log and pellet stove from La Nordica does not need a power supply either, everything is done by gravity feed and so it can be installed where a more automated pellet stove cannot. Because the Cleo combi log and pellet stove does not use a fan to blow air into the firebox, the flames when burning wood pellets are not the small concentrated fire that one usually gets with pellet stoves. The flames are more similar to the flame pattern you get when burning logs which some may find more relaxing.

The La Nordica Cleo combination stove has two settings, one for log burning and the other for when you are burning wood pellets. When burning wood pellets a lattice guard swings over the front of the firebox to stop you from accidentally loading logs on while in pellet mode. You simply use a small firelighter to light the wood pellets in pellet mode, or in log mode you can also use some kindling as for any other stove. Once the wood pellets are burning you can always shift over to log mode by loading logs into the hot firebox. The Cleo Combi combination log and pellet stove has an internal hopper and the pellets are fed from there to the firebox and drop in as needed.

This means that you can always have a supply of wood pellets - which are guaranteed to be dry - to tide you over times of no wood. Of course there is less to do when burning pellets too - you just have to keep the hopper topped up.

The Cleo Combi Fly log and pellet stove has primary, secondary, and tertiary air supplies to the firebox and runs at over 79% efficiency. At 6kW the Cleo wood pellet stove is suited to the small to medium sized room or to provide cosy secondary heating.
The price shown below for the Cleo combi wood pellet boiler stove includes 20% VAT. However the VAT rate applicable when a biomass boiler is both supplied and installed is 5% and this VAT rate applies to the whole job, including labour and materials. Therefore when your installer supplies this stove to you it will be at the reduced VAT rate.
| | |
| --- | --- |
| HEIGHT | 1340 MM |
| WIDTH | 602 MM |
| DEPTH | 637 MM |
| WEIGHT | 235 kg |
| FLUE DIAMETER | 150 MM |
| NOMINAL HEAT OUTPUT | 6 kW |
| BACK OF STOVE TO CENTRE OF TOP FLUE | 383 MM |
| FLUE OUTLET | Top flue only |
| CLEANBURNING | Yes |
| EFFICIENCY | 79.2 % |
| EFFICIENCY BURNING PELLETS | 81 % |
| HOPPER CAPACITY | 20 KG |
Contact Us

Ring Stovesonline on 0800 246 1250 | 01803 712316 | 01237 473900 When you ring Stovesonline you will never be held in a queue, given options or made to listen to music. If we are too busy to answer immediately then simply leave your name and number on the answer phone and we will ring you straight back.
Or write to us via our enquiry system

The Cleo Combi Combination Stove includes free delivery within the orange area on the map. Further delivery details.
Stovesonline in partnership with the ITF will plant and look after 2 trees for every stove bought; helping to maintain our tree stock and ensure wood remains an environmentally friendly fuel.
We pride ourselves on offering a great service before, during, and after you have dealt with us. We hope this will quickly become apparent to you. At the same time we like to balance that by being competitive and we are keen for you to choose us. If you happen to be offered a better deal elsewhere then we do not want to lose you so please let us know and we will do our best to match or beat it.
Flue Design Service

Would you like us to design & spec. your chimney or liner system? Just use our
Flue Design Service
There are around 100 million tonnes of firewood from English forests that remains unharvested every year. The forestry commission aims to harvest 50 million tonnes per year by the year 2020 - this could significantly reduce CO2 emissions