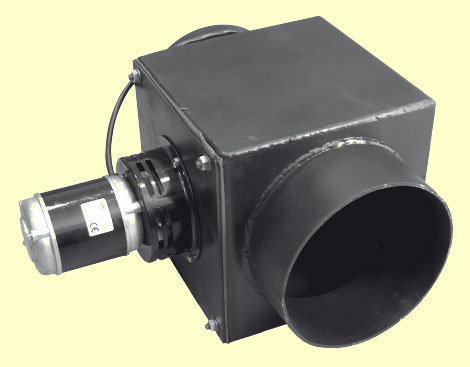 Got a sluggish chimney which resists all our remedies and suggestions? An inline chimney fan may well be the answer. Because it is placed internally the inline chimney fan is easy to fit, just requiring a power supply on a standard fused spur and an operating switch. It is also easy to get to the unit for maintenance. As you can see from the picture the fan motor is external to the unit and internally the fan blades are not right in the middle of the chimney - they are in a bypass off to one side. So where other chimney fans have to be run all the time because they block the chimney if they are not running, these inline chimney fans do not have to run all the time, meaning that you have the option to turn it on when needed.
Lifetime is also extended because the blades of the inline chimney fan do not take the full heat of the fire as they are off to one side and the motor is external.
Inline chimney fans are also ideal for use with log gasification boilers. The inline chimney fan is installed at the back of the log gasification boiler forming a section of the chimney. The inline chimney fan is turned on when the log gasification boiler is first lit and when you refuel the boiler. By actively sucking the flue gases out of the boiler the chimney fan does a number of things:
The inline chimney fan gets the fire going fast by drawing lots of air through it.
You do not have to wait for the chimney to warm up and start drawing well initially.
The inline flue fan can help to prevent smoke from coming into the room when the firechamber door is opened. This is especially important when adding more fuel to the boiler as you will need the door open for a little while even if you push it to whilst getting a new armload of wood.
When you refuel the boiler the fan gives the boiler a little boost to help get the new firewood burning fast.