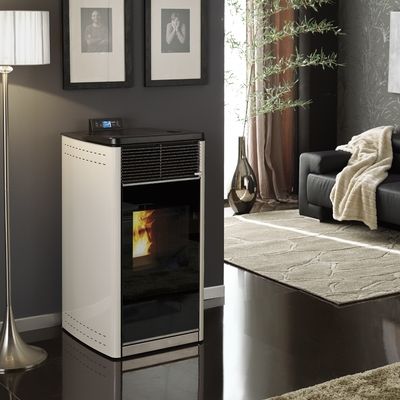 Klover Star 18 Boiler stove
The Star 18 is a very stylish stove with it's huge glass window, the glass is heat resistant, when the stove is lit and begins to heat up, the glass turns black and shows off the flames as pictured above, when the the stove is off and begins to cool down the glass becomes mirrored. It has a nominal heat output of 17.9kW which is split to 12.7kW to water and 5.2kW to room. Like all Klover pellet stoves, the Star 18 is incredibly efficient at just under 90%.
The Klover Star 18 wood pellet boiler stove qualifies for the £5000 Boiler Upgrade Scheme grant, to encourage people in rural areas off the gas grid to use renewable energy to heat their homes.  Click on the link to find out more.
Height

1100mm

Width

560mm

Depth

610mm

Weight

165kg

Flue Diameter

100mm

Fuel

Wood Pellet

Nominal Heat Output

17.9kW

Efficiency

89.8%

Nominal Output to Water

12.7kW

Nominal Output to Room

5.2kW

Defra Exempt

Yes

Hopper Capacity

27
Enquire
Our wood pellet boilers are installed via the Firepower network of trained dealers and engineers that cover the UK and N. Ireland.
Contact us by phone on 0800 246 1250 or by sending us a message and we can answer any initial questions you may have, and then put you in touch with your nearest Firepower engineer.