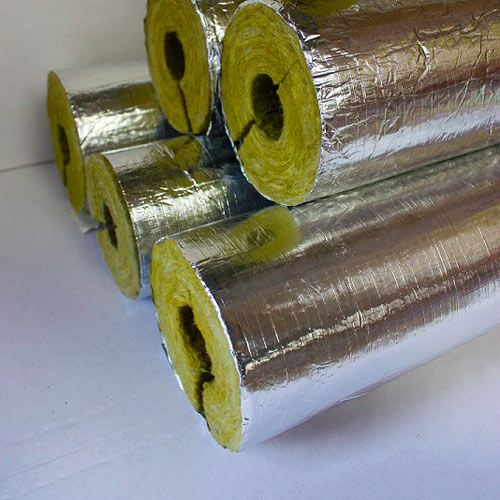 This Paroc rockwool pipe insulation is a reinforced foil covered rockwool pipe insulation. When installing an Akvaterm accumulator tank the lion's share of the heat losses will be through the pipework near the tank, the junctions between the tank insulation and the pipe insulation, and through nearby valves and components. The Akvaterm accumulator tank itself looses little heat because it is so well insulated. Paroc rockwool pipe insulation is therefore ideally suited to insulating the pipes that tap into the accumulator tank. The Paroc rockwool pipe insulation can be pushed right into the bowl shaped depression in the Akvaterm tank insulation where the tappings come out of the tank which makes a very good contact between the rockwool pipe insulation and the tank insulation so that heat losses at this junction are reduced. We offer the Paroc 30mm wall thickness rockwool pipe insulation for 22, 28 and 32mm pipework. The U-value of Paroc rockwool pipe insulation is 0.037 W/m.K at 50ºC.
We pride ourselves on offering a great service which we hope will quickly become apparent when you deal with us. At the same time we like to balance that by being competitive and we are keen for you to choose us. So if you are offered a better deal elsewhere then let us know and we will beat it.
Contact Us

Ring Stovesonline on 0800 246 1250 | 01308 458938 | 01237 473900 When you ring Stovesonline you will never be held in a queue, given options or made to listen to music. If we are too busy to answer immediately then simply leave your name and number on the answer phone and we will ring you straight back.
Or write to us via our enquiry system
| PRODUCT | PRICE |
| --- | --- |
| 1200mm length PAROC 30mm WALL THICKNESS ROCKWOOL FOIL COVERED PIPE INSULATION FOR 22mm PIPES | £11.50 |
| 1200mm length PAROC 30mm WALL THICKNESS ROCKWOOL FOIL COVERED PIPE INSULATION FOR 28mm PIPES | £12.50 |
| 1200mm length PAROC 30mm WALL THICKNESS ROCKWOOL FOIL COVERED PIPE INSULATION FOR 32mm PIPES | £13.25 |
| FOIL JOINT TAPE FOR PAROC ROCKWOOL PIPE INSULATION | £10.50 |