£165.00 inc VAT
Please call 01803 712316 | 01237 473900 for the best price
Order Now >>
This Stirling Engine stove fan spreads heat from your stove into the room providing a more even heat. It is very common in the UK to have your stove recessed into a fireplace opening which can end up reducing the heat coming out into the room. The Stirling fan solves this problem very neatly. The Fan can be placed anywhere on the stove as they have been tested up to 550 degrees centigrade.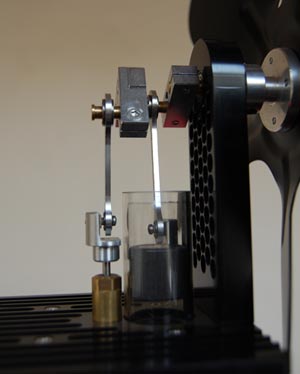 The fan is driven by a Stirling Engine. The Stirling engine was invented in 1816 by Robert Stiling, a Scottsman.It relies on a fantastically simple principal: when air (or another gas) heats up it expands. This expansion pushes up a piston. This air then comes into contact with a top plate which cools it. It then contracts and pulls the piston down.
The piston is fully visible inside its glass cylinder. No lubrication is needed, just sit it on your stove, give it a gentle push when the base is hot and it will start to spin, getting faster as the stove becomes hotter.
As well as serving a very useful function the Stirling Stove fan is a lovely piece of engineering with the glass piston cylinder, stainless steel arms and beautifully made bearings and workings.
| | |
| --- | --- |
| HEIGHT | 310 MM |
| WIDTH | 254 MM |
| DEPTH | 154 MM |

Contact Us

Ring Stovesonline on 0800 246 1250 | 01803 712316 | 01237 473900 When you ring Stovesonline you will never be held in a queue, given options or made to listen to music. If we are too busy to answer immediately then simply leave your name and number on the answer phone and we will ring you straight back.
Or write to us via our enquiry system
We pride ourselves on offering a great service before, during, and after you have dealt with us. We hope this will quickly become apparent to you. At the same time we like to balance that by being competitive and we are keen for you to choose us. If you happen to be offered a better deal elsewhere then we do not want to lose you so please let us know and we will do our best to match or beat it.