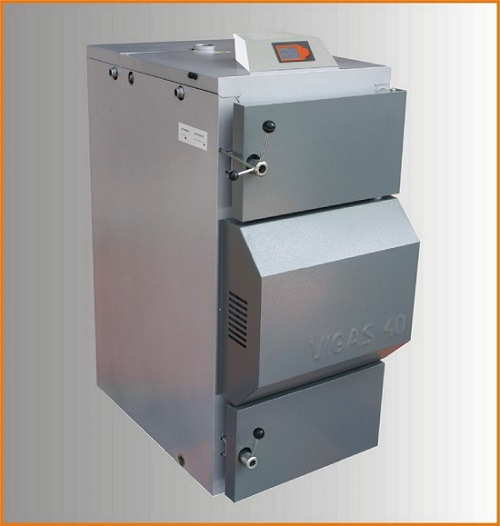 Vigas boilers are made in the Slovak Republic. They are a well built log gasification boiler with a range of different outputs. You light a smallish fire in the boiler like you would in a stove and leave it to catch properly. When the fire has caught you load up the firebox with very dry logs, shut the door and push the start button. After around 20 - 30 minutes the fire will have got sufficiently hot and when you push the flue flap closed it will start to gasify. At that point the flue should stop smoking and the hot flue gases will now be going through the boiler tubes. The Vigas is a reverse combustion or downburning boiler (sometimes called 'downdraught boilers' or 'downdraught burners', but this is misleading as downdraught is a common term used to describe a chimney which puffs smoke). In a 'normal' burner the flue gases and smoke go upwards, but in a downburner they are drawn downwards, in this case through the use of a fan. This allows more accurate control of the combustion and the air supply needed for most efficient burning.The smallest Vigas requires a 150mm flue while the other models need a 200mm diameter flue. In the event of the boiler overheating an overheat safety system kicks in which flushes mains cold water through a coil in the boiler. The hot water coming out of this coil is then discharged to a waste pipe and in this way the boiler is cooled down. There are some simple monthly maintenance tasks to keep the Vigas in good condition which will take around 10-15minutes, and you do have to empty the ash.
We pride ourselves on offering a great service which we hope will quickly become apparent when you deal with us. At the same time we like to balance that by being competitive and we are keen for you to choose us. So if you are offered a better deal elsewhere then let us know and we will beat it.
Contact Us

Ring Stovesonline on 0800 246 1250 | 01803 712316 | 01237 473900 When you ring Stovesonline you will never be held in a queue, given options or made to listen to music. If we are too busy to answer immediately then simply leave your name and number on the answer phone and we will ring you straight back.
Or write to us via our enquiry system