Flue and Chimney Design Service
Workshop stove installations
Workshop stove flue system designer - installation assistant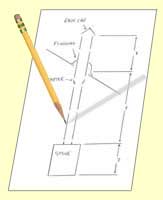 Workshop stove flue systems are often fairly simple when compared to domestic installations. On workshopstoves.co.uk there is an "installation assistant" which will quickly help you to design a flue system for your workshop stove. You can choose from 6 common types of workshop flue configuration from a simple straight up system to one that goes through the wall. You then enter in some details about your building, which workshop stove you are interested in, how much single and twin wall flue you would like, etc and the installation assistant does the rest.
There is also a lot of information on there about safety precautions and considerations when creating a workshop stove flue system. It is a good idea to read through the information on workshopstoves.co.uk first as safety is very important.
Remember if you order your workshop stove through workshopstoves.co.uk you also get a small discount.
Go to the www.Workshopstoves.co.uk installation assistant now