Stove Help & Advice Home
Pages about wood:
CO2 comparison of fuels
Wood is best in terms of CO2
How to dry and season firewood
What wood is best to burn on a woodburning stove
How to light a wood fire
A chart of the best woods to burn on your woodburning stove
A list of the wood burning stoves on our website
Search for local UK firewood suppliers

Wood burns best on a bed of ash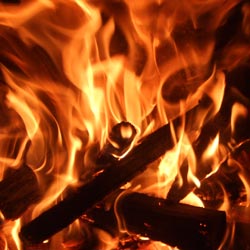 If you have a woodburning stove then let the ash build up to a reasonable thickness on the base of the firebox around 25-50mm. Do not follow this to the letter - become familiar with your stove and how it works best. I use a shovel and metal bucket to remove excess ash when it gets too high. Always leave a bed of ash in place - do not completely empty it out.
If you have a multifuel stove with a grate, but will be burning wood for long periods then let the ash build up on the grate so you have a layer covering the grate up. When you come to burning coal make sure to empty all the ash out or it will not work well and you may damage the stove parts.
If you will only be burning wood then choose a dedicated woodburner if possible as it will be more efficient at burning wood and the firebox will be larger than the multifuel stove.
We do not recommend that you burn wood and coal at the same time: burning coal produces sulphuric acid and wood can contain a lot of moisture - this combination can coat your chimney in sulphuric acid solution which can quickly eat away at anything.
Plus the conditions for burning wood efficiently are not the same as those for burning coal efficiently.
Wood burns best with a supply of air from above
When you light a wood fire open the bottom air vent as well as the top air vent to get it going to start with if needed. When the fire is going properly close down the bottom air vent and then control the stove using just the top air vent.
If this makes the fire die down too much then it sounds like the draw on your chimney is not that good. In this case use the bottom vent too and consider contacting us to see how you could improve the draw on your chimney.
When wood burns it is in fact wood gas that is burning. This gas burns best with a supply of air to the top of the firebox. On cleanburning stoves supply of heated air is introduced to the top of the firebox and you will be able to see flames hanging in the air and possibly a jet of flame where the cleanburning air supply comes into the firebox. A Morso Owl stove and Westfire 16 stove are good examples of a cleanburning wood stove.
Wood needs a good supply of air
Wood needs a decent supply of air to burn efficiently. When your stove is going well you should have clearly visible and energetic flames in the firebox. A smoky fire with intermittent or slow flames or a tarred up stove window are signs that the stove is probably being run too slowly. Running a stove slowly is not only inefficient: that tar that is blocking the window is also being deposited in your chimney, increasing your risk of chimney fire. So banking your stove up and closing it down overnight is not an efficient way to use fuel, nor is it the safest way to treat your chimney.
Do not add more logs to the stove all the time
Let the the current fire burn down to a bed of embers before reloading the stove with some more logs. Adding in extra logs all the time on top of the burning fire will actually reduce the efficiency of the stove by up to 15%. You cool down the firebox each time you open the stove door letting in a rush of cold air. Also the new wood that has been added needs to heat up before it ignites. Before it has heated up it cools the firebox down meaning that the stove will run less efficiently and produce more smoke.
Download our Checklist for safe and efficient woodburning
If you right click the following link then you can download our Checklist for safe and efficient woodburning. This is a simple one page guide which will help you get the most from your woodburner.
You might be interested in how to burn coal on a stove.