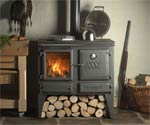 Esse ironheart cooker stove
Esse stoves have been making range cooker stoves for many years but have only recently released their first wood burning range cooker stove. The Esse Ironheart burns wood, has two hotplates and a large oven.
All Esse range cookers have a 3 year guarantee.
Visit our Esse ironheart cooker stove page, or click on the picture for more details
---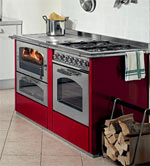 De Manincor Wood Cooker Stoves
De Manincor woodburning cooker stoves are high end wood cooker stoves, elegantly designed with attention to aesthetics and function. One of the things which really set them apart is that many of the De Manincor wood cooker stoves can be combined with a matching gas/electric cooker which gives a unit that can provide practical, stylish cooking all year round. We have the Domino: a wood cooker with a stunning full width, glass fronted, firebox, and we have a new generation boiler model with a window to the firebox, and the ability to connect to pressurised systems.
Visit our De Manincor Wood Cooker Stoves page, or click on the picture for more details
---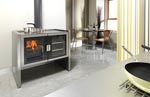 Firebelly Range Cooker Stoves
The Firebelly Razen is a bodly modern range cooker stove which transforms the traditional UK range cooker stove into something sleek, simple, and yet very impressive. What also sets the Firebelly Razen cookstove apart is that it is designed to burn efficiently - some more traditional range cooker stoves are really designed as coal burners.
Visit our Firebelly Range Cooker Stoves page, or click on the picture for more details
---
Klover Wood Pellet Cookers
Klover wood pellet cookers provide a stunning and stylish way to heat your house, provide for all your hot water needs whilst also allowing you to cook and bake.
Visit our Klover Wood Pellet Cookers page, or click on the picture for more details
---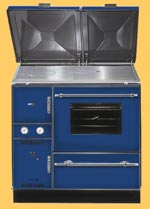 Wamsler cooker stoves
Wamsler range cooker stoves. A variety of multi fuel cooker stoves made by Wamsler. Wamsler have been making cookers since 1875 and their range stoves benefit from the many improvements and innovations that they have come up with over the years. These include a cleanburn system and more consistent oven temperatures. The Wamsler 148 and 178 central heating cooker stoves come with high output 16kW and 18kW backboilers respectively.
Visit our Wamsler cooker stoves page, or click on the picture for more details
---