Chimney brushes and rods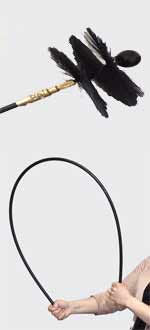 Super flexible chimney rods and brushes
These nylon chimney sweeping rods and nylon chimney sweeping brushes are just the thing for sweeping flexible chimney liners or twin wall flue systems. The nylon sweeping rods are very bendy and can get around tight bends in the flue which means it is no longer a problem to sweep those twin wall flue systems with quite a few 45 degree bends in them.
Visit our Super flexible chimney rods and brushes page, or click on the picture for more details
---
Traditional chimney sweeping rods and brushes
Keep your chimney clean and reduce your risk of chimney fire. Here we have traditional chimney sweeping brushes – Polyspiral brushes as well as wire brushes, and of course chimney sweeping rods.
Visit our Traditional chimney sweeping rods and brushes page, or click on the picture for more details
---
Stoves
online
Ltd, Capton, Dartmouth, Devon, TQ6 OJE, England, UK, 0845 226 5754 | 01803 712316,
Contact Us
© Stovesonline Ltd. VAT: 801261871, Company: 04636920. Registered in England, UK