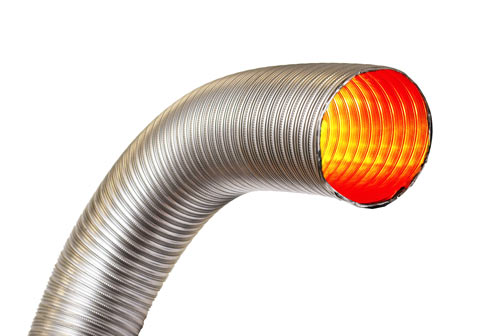 Over the years we have we have lined hundreds of chimneys and supplied literally miles of flexible liner. This has given us the opportunity to see how the different makes of liner stand up to the stresses and strains of being pulled down a chimney and how the flexible flue liner reacts to being subjected to continuous high temperatures with occasional bursts of very high heat. It also gives us the opportunity to see how the flexible flue liner puts up with being in a damp chimney and how it copes when unseasoned, tar filled wood or high output cokes and coal are burnt. We have subjected the various chimney liners to other tests as well, such as how quickly will the inner skin of the flexible liner crease when the liner is curved, thus compromising its integrity (and you won't see that from the outside of the liner).

Our 316 grade FlexLine flue liner comes with a 10 year warranty, the 904 grade with a 20 year warranty.

Let us do the work: use our complimentary
Flue Design Service

The liner fittings that we use are made of decent thickness stainless steel and well designed. The design of the flex pipe adaptor, for instance, ensures that even if damp wood is burnt, potentially leading to an excess water/tar mix running back down the flexible chimney liner, it will end up back in the stove, with no chance of it spilling over from the fitting. The same can't be guaranteed with many of the cheaper alternatives.

As well as the standard 316 grade stainless steel chimney liner that is used in most domestic applications we can also supply 904 grade stainless steel chimney liner. This is normally used in situations where the liner will be subjected to very high temperatures or heavy condensate formation. The 316 grade carries a 10 year warranty and the 904 grade carries a 20 year warranty.




125mm systems - building regulations advise a mimimum flue size of 150mm and HETAS installers may not fit or connect to a 125mm system. Read more about 125mm flue systems here.

You should also read our online guide how to line a chimney with a flexible flue liner.
All prices are Per Meter inc VAT


FlexLine Flexible flue liner
Product
125mm
150mm
175mm
200mm
FLEXLINE STAINLESS STEEL FLUE LINER
316 GRADE LINER

£16.00
£19.00
£26.00
£31.00
904 GRADE LINER

£28.00
£30.00
£41.00
£51.00
FLEXLINE LINER ADAPTORS
GATHER ADAPTOR

£85.25
£85.25
£99.50
£101.22
REGISTER PLATE ADAPTOR

£64.18
£64.18
ADAPTOR REDUCER

£28.82
£28.82
£35.72
£94.14
FLEX PIPE ADAPTOR

£27.40
£27.40
£44.89
£47.39
FLEX PIPE ADAPTOR LONG TAIL

£31.11
£31.11
SCREWFIX FLEX PIPE ADAPTOR

£29.37
£29.37
SCREWFIX FLEX PIPE ADAPTOR LONG TAIL

£35.25
£35.25
SCREWFIX ADAPTOR REDUCER (150MM - 125MM)

£35.25
FLUE LINER FIXINGS AND COMPONENTS
TOP PLATE

£9.96
£9.96
£9.96
£9.96
TOP CLAMP

£10.72
£10.72
£12.36
£13.45
TOP INSERT

£9.75
£11.16
£12.81
£15.77
NOSE CONE

£4.90
£4.90
£5.79
SCREWFIX NOSE CONE

£14.10
£16.45
INSULATION FOR CHIMNEY LINER
1M LINERTHERM

£43.17
£43.17
£53.89
£53.89
2M LINERTHERM

£86.35
£86.35
£107.78
£107.78
3M LINERTHERM

£129.52
£129.52
£161.67
£161.67
LECA BACKFILL INSULATION 40L BAG
£15.40
30MM ROCKWOOL SLEEVES - 1000MM LENGTH

£35.00
£35.00
£49.00
FOIL TAPE FOR ROCKWOOL SLEEVES
£28.50
RAIN CAPS AND COWLS
TERRACOTTA COLOUR S/S POT HANGER COWL WITH BIRDGUARD

£72.76
£72.76
£99.57
£99.57
SCREWFIX TERRACOTTA COLOUR S/S POT HANGER COWL WITH BIRDGUARD

£87.84
£88.83
STAINLESS RAIN CAP FOR FLEX

£30.57
£31.86
£40.80
£43.71
TERRACOTTA POT HANGER WITH ANTI DOWNDRAUGHT COWL

£96.19
£96.19
£102.62
£102.62