Flexible Flue Liners
Types of Flexible Flue Liners
FlexLine Flexible flue liner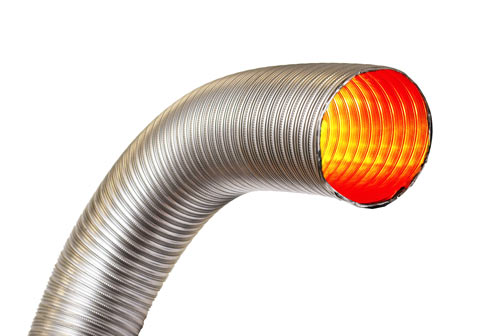 Over the years we have we have lined hundreds of chimneys and supplied literally miles of flexible liner. This has given us the opportunity to see how the different makes of liner stand up to the stresses and strains of being pulled down a chimney and how the flexible flue liner reacts to being subjected to continuous high temperatures with occasional bursts of very high heat. It also gives us the opportunity to see how the flexible flue liner puts up with being in a damp chimney and how it copes when unseasoned, tar filled wood or high output cokes and coal are burnt. We have subjected the various chimney liners to other tests as well, such as how quickly will the inner skin of the flexible liner crease when the liner is curved, thus compromising its integrity (and you won't see that from the outside of the liner).

Our 316 grade FlexLine flue liner comes with a 10 year warranty, the 904 grade with a 20 year warranty.

Let us do the work: use our complimentary
Flue Design Service

The liner fittings that we use are made of decent thickness stainless steel and well designed. The design of the flex pipe adaptor, for instance, ensures that even if damp wood is burnt, potentially leading to an excess water/tar mix running back down the flexible chimney liner, it will end up back in the stove, with no chance of it spilling over from the fitting. The same can't be guaranteed with many of the cheaper alternatives.

As well as the standard 316 grade stainless steel chimney liner that is used in most domestic applications we can also supply 904 grade stainless steel chimney liner. This is normally used in situations where the liner will be subjected to very high temperatures or heavy condensate formation. The 316 grade carries a 10 year warranty and the 904 grade carries a 20 year warranty.




125mm systems - building regulations advise a mimimum flue size of 150mm and HETAS installers may not fit or connect to a 125mm system. Read more about 125mm flue systems here.

You should also read our online guide how to line a chimney with a flexible flue liner.
All prices are Per Meter


FlexLine Flexible flue liner
Product
125mm
150mm
175mm
200mm
FLEXLINE STAINLESS STEEL FLUE LINER
316 GRADE LINER

£18.53
£21.37
£25.27
£28.05
904 GRADE LINER

£37.26
£42.44
£50.93
£56.34
FLEXLINE LINER ADAPTORS
GATHER ADAPTOR

£85.25
£85.25
£99.50
£101.22
REGISTER PLATE ADAPTOR

£64.18
£64.18
ADAPTOR REDUCER

£28.82
£28.82
£35.72
£94.14
FLEX PIPE ADAPTOR

£27.40
£27.40
£44.89
£47.39
FLEX PIPE ADAPTOR LONG TAIL

£31.11
£31.11
SCREWFIX FLEX PIPE ADAPTOR

£29.37
£29.37
SCREWFIX FLEX PIPE ADAPTOR LONG TAIL

£35.25
£35.25
SCREWFIX ADAPTOR REDUCER (150MM - 125MM)

£35.25
FLUE LINER FIXINGS AND COMPONENTS
TOP PLATE

£9.96
£9.96
£9.96
£9.96
TOP CLAMP

£10.72
£10.72
£12.36
£13.45
TOP INSERT

£9.75
£11.16
£12.81
£15.77
NOSE CONE

£4.90
£4.90
£5.79
SCREWFIX NOSE CONE

£14.10
£16.45
INSULATION FOR CHIMNEY LINER
1M LINERTHERM

£43.17
£43.17
£53.89
£53.89
2M LINERTHERM

£86.35
£86.35
£107.78
£107.78
3M LINERTHERM

£129.52
£129.52
£161.67
£161.67
LECA BACKFILL INSULATION 50L BAG
£19.50
30MM ROCKWOOL SLEEVES - 1000MM LENGTH

£35.00
£35.00
£49.00
£49.00
FOIL TAPE FOR ROCKWOOL SLEEVES
£28.50
RAIN CAPS AND COWLS
TERRACOTTA COLOUR S/S POT HANGER COWL WITH BIRDGUARD

£72.76
£72.76
£99.57
£99.57
SCREWFIX TERRACOTTA COLOUR S/S POT HANGER COWL WITH BIRDGUARD

£87.84
£88.83
STAINLESS RAIN CAP FOR FLEX

£30.57
£31.86
£40.80
£43.71
TERRACOTTA POT HANGER WITH ANTI DOWNDRAUGHT COWL

£96.19
£96.19
£102.62
£102.62
Dura Flexible flue liner
We sell a good quality liner that does the job very well but we do, occasionally, get requests for a liner that needs to go into particularly demanding situations and for that we've always recommended DuraFlue.

DuraFlue flexible liner comes with the highest specification and a 15 year guarantee for the 316 grade, and a 30 year guarantee for its 904/316 grade liner.

Duraflue flexible liner is formed by a different process than standard liner, which gives it enormous resistance to denting, tearing, unravelling etc. It is the only liner on the market which can be installed either way up, both ways are equally resistant to condensate leakage. The Duraflue 316 manages this without any loss of flexibility and so is as good at going round bends in the chimney as a standard liner. The 904/316 is undoubtedly a bit stiffer than a standard liner and we wouldn't recommend it for chimneys with sharp bends in.
Dura Flexible flue liner
Product
125mm
150mm
DURA STAINLESS STEEL FLUE LINER
DURA 316 LINER

£22.25
£26.50
DURA 904/316 LINER

£35.00
£41.50
DURA LINER ADAPTORS
DURA MA ADAPTOR

£33.75
£33.75
DURA MR ADAPTOR

£38.75
DURA FLUE LINER COMPONENTS
TOP PLATE

£14.75
£14.75
TOP CLAMP

£14.75
£14.75
TOP INSERT

£14.75
£14.75
NOSE CONE

£6.25
£6.25
DATA NOTICE PLATE
£8.00
CHIMNEY POTS
ROLL TOP 300MM BUFF OR TERRACOTTA CHIMNEY POT
£87.50
ROLL TOP 450MM BUFF OR TERRACOTTA CHIMNEY POT
£92.75
ROLL TOP 600MM BUFF OR TERRACOTTA CHIMNEY POT
£113.00
COWLS AND RAIN CAPS
TERRACOTTA POT HANGER COWL WITH BIRDGUARD

£81.75
£81.75
TERRACOTTA POT HANGER AND ANTI DOWNDRAUGHT COWL

£104.75
£104.75
LECA INSULATING BACKFILL FOR CHIMNEYS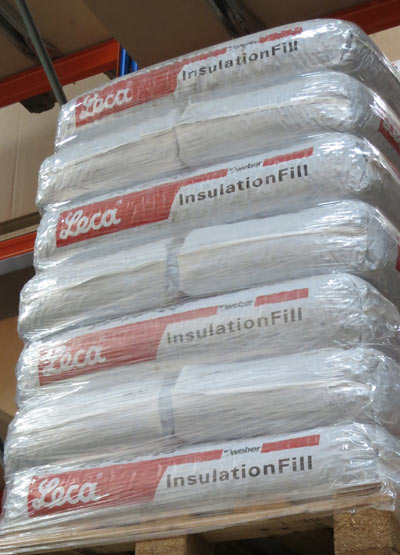 Leca insulation backfill for flexible flue liners UK - Leca is used to insulate around a flexible chimney liner where there is not enough room to fit rockwool insulation and where you do not want to use chimwrap. Leca insulation is similar to vermiculite insulation in that the chimney is blocked from the bottom using a register plate and the insulation is then poured around the flexible chimney liner from the top of the chimney. Unlike vermiculite, leca will not compress if it gets damp/wet. I much prefer using the linertherm if possible as it is far easier to use and carry.
£19.50 inc VAT
Order now via



If you have any questions about LECA INSULATING BACKFILL FOR CHIMNEYS then please
use our enquiry system

Ring Stovesonline on 0845 226 5754 or 01803 712 316

A baffle plate increases the distance that the flue gases have to travel before exiting the stove which means your stove works more efficiently and you get more heat
Linertherm flex insulation
At last a chimney liner insulation method that solves many of the problems that one can have with rockwool sleeves or leca. Linertherm flex insulation is a highly insulating flexible material that you wrap around the liner before it is lowered down the chimney. It comes complete with D clip strap fixings and side and bottom overlap sections. These ensure that it is held securely in place on the liner, even when being pulled hard around bends in the chimney, and that there are no uninsulated areas along the edge of the insulation nor gaps between sections.
Because of the high insulation value of the material it is slim enough to be put into the chimney through the chimney pot, rather than having to chisel away the existing pot and flaunching first. Even if the chimney has bends in it linertherm will go round them without being pulled back up the liner or jamming the liner.
By insulating your flex liner effectively you ensure that your stove will draw and burn well and that dangerous tar deposits in your liner are kept to a minimum. Be careful of cheap imitations that have a poor insulation value, separate band fixings and no overlaps.

For more details please see our using Linertherm guide.

If you have any questions about Linertherm flex insulation then please
use our enquiry system

Ring Stovesonline on 0845 226 5754 or 01803 712 316

ROCKWOOL FLUE LINER INSULATION
Insulating flexible flue liners in wide chimneys has always been a problem because of the large amount of leca needed to backfill the chimney. Now we carry rockwool sleeves, by Rocklap, that just clip around the liner as it goes down the chimney. The rockwool sleeves are strong lengths of pre-formed insulation with a one piece, factory applied foil facing with an integral self-adhesive lap.

Sections are 1000mm long and 30mm wall thickness.

If you have any questions about ROCKWOOL FLUE LINER INSULATION then please
use our enquiry system

Ring Stovesonline on 0845 226 5754 or 01803 712 316

Stoves
online
Ltd, Capton, Dartmouth, Devon, TQ6 OJE, England, UK, 0845 226 5754 or 01803 712316,
Contact Us
© Stovesonline Ltd. VAT: 801261871, Company: 04636920. Registered in England, UK