Mendip stoves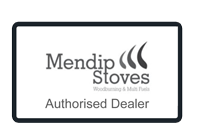 We are really pleased to have such a well manufactured, new range of stoves on board from a UK company. Mendip Stoves have been named after villages in the lovely hilly landscape area around Cheddar.
Mendip stoves all have the facility to burn wood or smokeless fuel apart from contemporary models and most models have been approved for use in smoke controlled areas. The Mendip 5 and 8 are both available as a pedestal model with a logstore underneath, there is also the choice of a range of coloured enamelled models.
The Mendip Churchill range is recognised by the gentle curved door and glass of the stove. While the Mendip Loxton series with it's clean lines, begins with the small 3kw model ending with the large 10kw model.
Mendip stoves are supporting the Woodland Trust by donating £10 for every Mendip stove sold.
We feel it is lovely to have a UK manufacturer helping plant hundreds of trees, so showing direct support for a sustainable energy source and landscape.
Mendip 5 stoves
The Mendip 5 stoves are rather contemporary looking stoves made in the UK. At 4.8kW the Mendip 5 stoves are designed for the small-medium sized room. The Mendip 5 stoves are multifuel stoves with airwash as standard, available in a choice of enamel colours as well as a pedestal version.
Visit our Mendip 5 stoves page, or click on the picture for more details
---
Mendip 8 stoves
The Mendip 8 stove, as the name suggests, can give out 8kW of heat to your room. The styling is the same as the Mendip 5 which is it's smaller brother.
Visit our Mendip 8 stoves page, or click on the picture for more details
---
Mendip Loxton Stoves
Mendip Loxton stoves are traditional looking stoves yet cleanly designed. With a choice of sizes from 3, 5, 6, 8 and 10kW. This means there is a Loxton stove to suit most sizes of room.
Visit our Mendip Loxton Stoves page, or click on the picture for more details
---
Mendip Churchill Stoves
Mendip Churchill stoves are the same in terms of efficiency and functionality as the Loxton stoves but their doors curve outward towards you which is a really nice feature. This gives the Churchill stoves a more contemporary look than the Loxtons, whilst still being UK styled stoves.
The Mendip Churchill range of stoves consists of three different sizes: the Churchill 5 stove, the Churchill 6 stove and the Churchill 8 stove. The difference between them is that the depth of the stove changes between models giving heat outputs of 5, 6 and 8kW respectively. There is also a colour option of standard black or gunmetal grey on all models.
Visit our Mendip Churchill Stoves page, or click on the picture for more details
---
Mendip Somerton Stoves
The Somerton is a convection stove from Mendip and has a great contemporary look. There are three options for this stove, the standard model, the compact model and a pedestal version.
Visit our Mendip Somerton Stoves page, or click on the picture for more details
---
Stoves
online
Ltd, Capton, Dartmouth, Devon, TQ6 OJE, England, UK, 0845 226 5754 or 01803 712316,
Contact Us
© Stovesonline Ltd. VAT: 801261871, Company: 04636920. Registered in England, UK