Flue and Chimney Design Service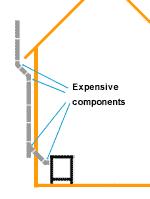 Some chimney installations require that the double insulated flue pipe goes through an external wall and then runs up the outside of your house. External flue systems are invariably more expensive than internal systems as they always have at least one 45 degree bend and one 135 degree T, and usually another two bends to avoid overhangs. External insulated flue systems are also a little more difficult to install and result in a colder chimney than a full internal system.
For our flue designers to design your external flue system using insulated twin wall flue pipe we will need a few details and measurements from you. The big link below will take you to our application form where you can enter these details.

It takes a little bit of time to gather the measurements and details that we need and to help out we have made a printable checklist of all the details needed - you simply print this list out and then fill in the spaces as you go.

Click here for the application form


Some decisions you will have to make about your flue system
Single skin flue pipe - you can run the first section of flue from the stove using single skin flue pipe. Most stove manufacturers recommend a maximum of 1000mm of single skin before going into twin wall insulated flue pipe. You have to change from single to double before the flue reaches the ceiling. So, on the one hand, single skin flue is cheaper than double skin, but on the down side it does mean that you have two different types of flue (with different external diameters) within the room.

Type of single skin flue pipe - you can choose black enamel flue or stainless steel flue. The stainless steel flue pipe lasts longer than enamel flue, fits better with double skin adaptors and can be sprayed to match the stove.

Double skin flue should be boxed in where it passes through a storage area, ie in a loft or a bedroom cupboard, to prevent stuff being accidentally leant against it.