Sunny weather is here and it's time we all dived out into the garden and started living the outdoor life. Here we've got some great ideas for garden fires, outdoor cooking and ways to feel warm and cosy while eating and drinking under the moonlight.
These are really solid, chunky looking firepits that let you safely have a fire in your back garden plus they have the added bonus of a stainless steel cooking grille that instantly turns them into a barbecue. You can start the evening on charcoal while you're cooking and then throw some logs on when you want those cosy crackling flames and everyone is starting to feel the need for a bit of extra warmth.
Built to last, these Grill Pits will go on for years with an occasional touch up of heat resistant paint.
Grill Pits are available in two sizes, with the Medium one having a diameter of 500mm and the larger one is 650mm wide.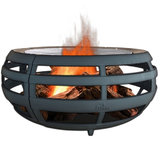 These ceramic grills are a great way of cooking outside, giving you the flexibility to prepare delicious tasting food by grilling, baking, smoking or slow cooking. Kamado grills are made from heatproof clay with a tougher outer glaze and all the metalwork is stainless steel, so these grills will neither rust nor crack. 
Using charcoal as your fuel you can precisely control the temperature between 80 and 350 degrees, allowing you to cook in exactly the way you want. These grills are designed to have minimal air circulation which stops the meat drying out to give the best flavour possible.
Outdoor cooking has never tasted this good before!
Every Kamado Grill (13" in the first has a different base and no side shelves) comes complete with Ceramic Shells, Firebox, Fire Ring, Trolley Stand with brake, two assembly bamboo side shelves, a stainless steel cooking grill, Cast Iron adjustable top damper and crate. 
Kamado Grills come in four different sizes: 13 inch, 18 inch, 21 inch and 23 inch.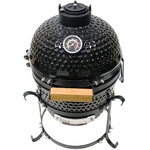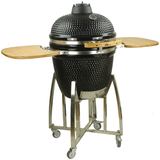 The Schiedel Garden Fireplace Barbecue
If you're designing your garden then you couldn't find a more perfect focal point than this beautiful garden fireplace. Designed in Denmark, and built from pumice sourced from the Hekla Volcano in Iceland, this garden fire will last for years and years to come and is the perfect solution for outdoor heating and cooking.