Some insert stoves require a ventilated enclosure. We can supply white metal convection slot-vents and grille-vents for the enclosure. The long slot-vents are 60mm high, and come in 400/ 600/ 800/ 1000mm lengths.
The 8-bar low level grille-vents are 395 x 165mm, and the 3-bar high level grille-vents are 400 x 175mm.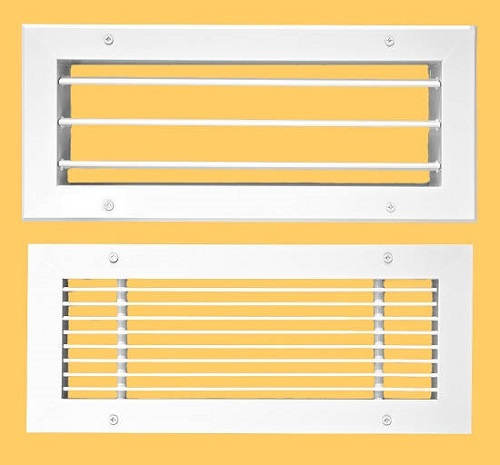 Talk to our technical dept. to see which ones you will need.

These vents are usually hidden in log stores below the stove, side-shelving units, on the chimney breast returns or in a shadow-gap.
Contact Us

Ring Stovesonline on 0800 246 1250 | 01803 712316 | 01237 473900 When you ring Stovesonline you will never be held in a queue, given options or made to listen to music. If we are too busy to answer immediately then simply leave your name and number on the answer phone and we will ring you straight back.
Or write to us via our enquiry system
| PRODUCT | FREE AIR mm2 | FREE AIR cm2 | PRICE |
| --- | --- | --- | --- |
| 400mm x 60mm long slot-vents | 11100 | 111 | £57.58 |
| 600mm x 60mm long slot-vents | 17100 | 171 | £66.06 |
| 800mm x 60mm long slot-vents | 23100 | 231 | £76.00 |
| 1000mm x 60mm long slot-vents | 29100 | 291 | £86.52 |
| 8-bar low level grille-vents | 24300 | 243 | £42.48 |
| 3-bar high level grille-vents | 26500 | 265 | £42.48 |