Thermalux Stove Installation Sheets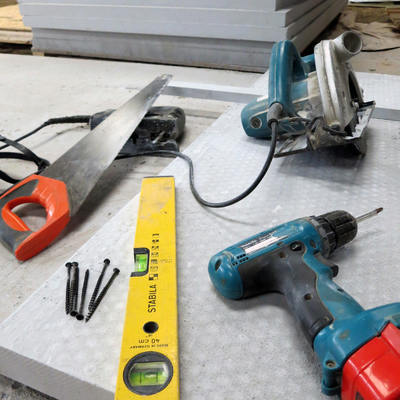 Thermalux 50mm is ideal for the installation of inset stoves. Thermalux 25mm is ideal for use as a heat shield so reducing the distance to combustible materials by as much as 50%. 
Thermalux 50mm sheets are self-supporting, insulating and can be directly plastered. Each sheet has a rough side and a smooth side (smooth side is not a finished surface), they should be used with the rough side outwards to accept the plaster. Thermalux sheets come as 1200mm x 1200mm in 50mm or 25mm thicknesses.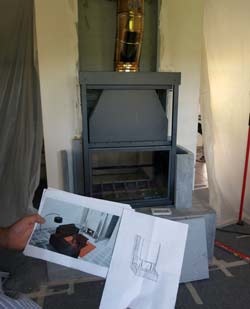 When installing an inset stove it is common to create a false chimney breast in the room. This usually had to be done with steel studwork, fireboard and then rockwool batts to insulate the chamber internally. Thermalux takes the place of all these materials. Thermalux sheets are simply glued and screwed together to form the chamber. You use Thermalux on the ceiling and rear wall to heat shield and insulate. Thermalux can be worked with standard tools which means it is easy to cut and easy to fix.
Thermalux is also useful if you are installing an inset stove into an opening in an existing wall. Here the sheets can be used to finish off the front face of the installation and as an insulating lining for the chamber.
You might also choose to install an inset stove within a freestanding or partially freestanding masonry cube in the room. With Thermalux this is easily achieved. We also supply a suitable glue in standard cartridges and a sealer. Typically an inset stove installation will take between 6 and 8 sheets with one tube of glue per two sheets. Every job is different of course so please have a look at the instruction manual below and then measure and work out what you will need.
Thermalux is very absorbent and so any surface that needs to be glued, plastered or dot and dabbed needs to be primed first to avoid the plaster crazing due to the water being absorbed too quickly. When the sheets have been cut to size, prime any edge to be glued. Once the chamber has been built, dust off and apply a coat of Thermalux Suction Control Primer, diluted 5:1. Application by roller is usually best but it can be brushed on. Coverage is approximately 35 ml (before dilution) per square metre (250 ml will do five 1200mm x 1200mm sheets). Once the primer has dried, the sheets can be plastered.
We offer a 15% discount on any order of 10 sheets or more. There is an additional carriage charge on all orders.
For more information about stove ventilation, please visit our inset stove ventilation page.
View Cart
View Cart