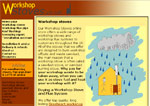 Workshopstoves.co.uk
Workshopstoves.co.uk is a 1-stop shop where you can find our range of Oakfire and Greenheart sawdust burning workshop stoves, workshop stove flue pipe, lots of advice, and a clever online installation designer that will design your workshop stove and flue system for you, ready to buy straight away.

Our Oakfire and Greenheart workshop stoves will burn wood scraps, offcuts, and sawdust. Why pay to have your wood waste taken away when you can use it to heat your workshop in one of workshop stoves?

Go to the Workshopstoves.co.uk website.
Visit our Workshopstoves.co.uk page, or click on the picture for more details

Steel workshop stove
Thousands of these Greenheart workshop stoves are in use in workshops across the country. The way these workshop stoves are designed means that it is possible to burn sawdust and wood in one stove.
With a spread of outputs from 4kw up to 18kw there is a stove to suit the smallest up to the larger workshop
Visit our Steel workshop stove page, or click on the picture for more details
Oakfire workshop stoves
Oakfire stoves are robust, well put together and really chuck out the heat. Oakfire workshop stoves can burn a variety of fuels including sawdust, timber offcuts and logs. There are 4 models with outputs from 6kW to 20kW.
Visit our Oakfire workshop stoves page, or click on the picture for more details