Stoves for New Build Homes
It is hard to imagine designing your dream home without a real fire at the heart of it. On a cold winters night it's just not the same to sit around a radiator and, for many of us, a log-effect gas fire just doesn't have the sounds and smells and ever-changing flame pattern that satisfies that primal need for fire. Even more important in this uncertain world is that a real fire gives a back up in the event of a power cut or mechanical failure. With no electricity the heat pump will have switched itself off and the underfloor heating won't work so at that point it's really good to have a plan B in place.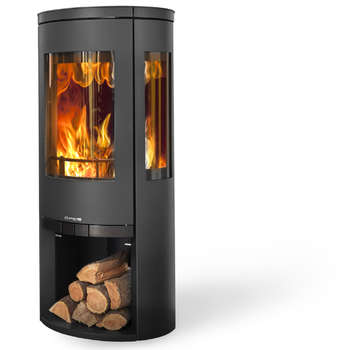 Modern homes are designed to have high levels of insulation and to be airtight and some builders and architects will tell you that having a real fire is incompatible with that, but thankfully that is no longer the case. Many of the latest low emission woodburning stoves are designed to be airtight and draw all their combustion air directly from outside and then vent straight into the chimney, so creating a closed combustion system. We design chimneys to go with them that maintain the airtightness of the house and don't affect the home's insulation level. The chimney can be a traditional masonry stack or a simple black, insulated stainless steel flue.
You can browse our range of direct air stoves
There are even modern solutions if you want the more traditional look of a fireplace rather than a woodburning stove. Inset fires made by the French manufacturer Fondis have large, all glass, counter-balanced doors that slide up and away into the wall above. Paired with a beautiful limestone fire surround, custom made for these fires, and you get all the look of an open fire but with all the air tightness and safety of a stove. A real fire, yet working as a closed appliance, and giving that glorious uninterupted view of the flames as you stretch your feet towards the warmth.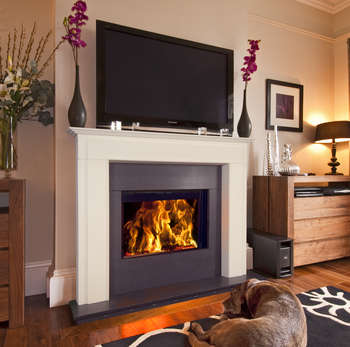 And for those that sometimes just have to have a truly open fire, we produce a door sensor that automatically detects when the fire is being run with the glass door up and out of the way and opens a dedicated air supply to the room to allow that to happen. 
There is also the possibility of the woodburning stove having a boiler to enable it to take care of the domestic hot water requirements and even provide back up heating. This can be a great advantage in winter when solar PV and solar thermal panels may not be producing much energy and heat pumps work at their lowest efficiency when asked to provide higher temperature water, particularly when it is cold outside. Stoves such as the Woodfire Passiv and the Opus Calypso are purpose built for low energy houses, designed to give most of their heat to the hot water tank or thermal store, with just a small output to the room. Incorporating a thermal store into the design is a great way to enjoy a cosy fire during the evening knowing that you're storing up the energy to provide heating and hot water for the next day or two. It is also a simple way to link solar panels, a heat pump and a boiler stove so that they all contribute to your home's energy needs in the most economical and efficient way possible.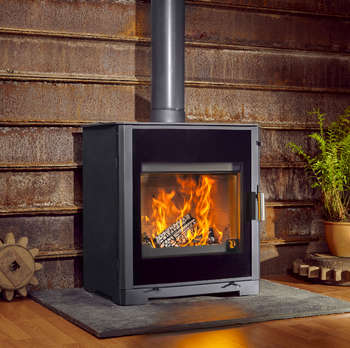 The added bonus of incorporating a stove into your design, at a time when we're all looking to reduce our carbon footprint, is that every time you start warming the house with your stove, your conventional heating will turn itself off. This doesn't just save you money, you will also be helping the environment as wood is a renewable, carbon neutral fuel.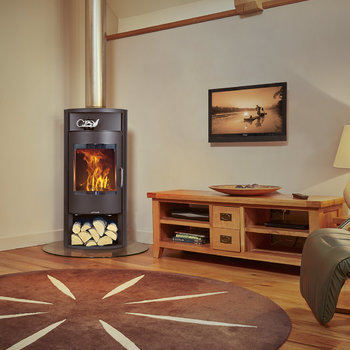 We are able to take care of all aspects of specifying the stove and chimney to suit your build and will work with you, your architect and your builder to ensure that it all goes smoothly.