Fondis Stella 3 Inset Stoves
The new range of elegant, high quality woodburning inset stoves from Fondis. The Stella 3 range comes in several different sizes to suit many fireplace openings. The very large doors with minimalistic framing slide up into the wall for refuelling. The stove can be burnt with the door fully open to give that warm, cosy open-fire feel.
Visit our Fondis Stella 3 Inset Stoves page, or click on the picture for more details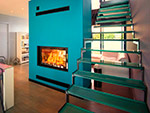 Fondis Ulys Inset Stoves
Fondis Ulys insert stoves are high quality woodburning insert stoves which feature doors that slide up and into the wall, so very little to clutter your view of the fire. There are a range of different models of Fondis Ulys insert stove to choose from, all with generous, well insulated fireboxes and high efficiencies. Some of the Fondis Ulys insert stoves feature an innovative catalyst system which drastically reduces CO and particulate emissions.
Visit our Fondis Ulys Inset Stoves page, or click on the picture for more details
Fondis V Series Inset Stoves
Fondis V Series inset stoves are simple to install and provide their heat quickly to the room. The glass extends right to the edge of the doorframe giving the Fondis V Series stoves that up to date look deep black look to their frames. The V Series are efficient woodburners with cool to the touch silicone door handles. There is even the V80LDF double sided model in the range.
Visit our Fondis V Series Inset Stoves page, or click on the picture for more details