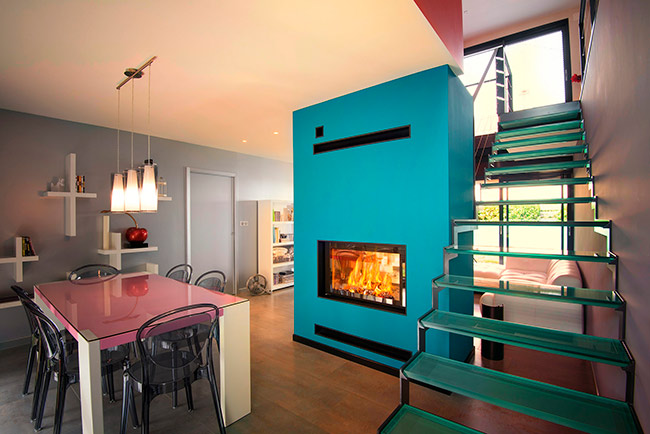 Ulys are top of the range insert stoves from Fondis and it is their elegant simplicity which is so appealing: doors which slide up and into the wall above, minimal frames so that very little blocks the view of the fire, and the large glass of the window coming right to the edge of the door frame to give a seamless and deep black lustrous finish to the edge. Once installed there is actually little of the Fondis Ulys insert stove to be seen, so very little to distract from the beauty of the wood fire. These Ulys stoves really give you that 'window of flame in the wall' effect.
Inside a Fondis Ulys insert stove the firebox is completely insulated so that heat reflects back into the heart of the fire, driving up the temperature which makes for a cleaner burn and more efficient combustion. Inside a Ulys insert stove the base of the firebox is made from special insulating firebrick. This firebrick has a high alumina content and so stores heat well. The firebrick is formed under very high pressure which drives out the water from the brick before firing, this means that the Fondis Ulys stove firebricks are particularly robust.
An external air supply comes as standard and allows you to hook up a Fondis Ulys insert wood stove to an external air duct. Ordinarily, when an air vent in the wall of a room is fitted cold air is drawn into the room which cools the house, creates draughts, and makes a hole in a wall where there would otherwise be none. Drawing the combustion air through an external air duct helps to reduce these unwanted draughts and makes the Fondis Ulys insert stove well suited to the modern, well sealed, house.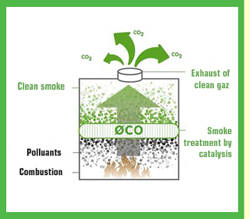 The Fondis Ulys 700 and Ulys 900 insert stoves can be upgraded to feature a catalyst system similar to that found in modern cars. This device reduces particulates and CO emissions by 90%, volatile organic compound emissions by 86%, and boosts the efficiency of the insert stove at the same time. The catalyst system is fitted in the top of the Ulys firebox where it is preheated to 200ºC when the fire is first started to ensure that it works as it should, right from the start.