Stove room ventilators
We can supply the new LookRyt room ventilators, they can ventilate rooms with stoves up to 10.5kW output and also for stoves up to 17.5kw/23kw.
These ventilators are easily installed with a core drill, come with an internal and external grille, and internal baffles to cut down wind noise.
Visit our Stove room ventilators page, or click on the picture for more details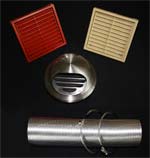 Stove external air ventilation kits
Stoves which can take their supply of air from an external air duct are becoming increasingly common. External air really makes sense in modern, well sealed houses; you have gone to all the effort of sealing the house well, why would you then want your stove to be drawing cold external air directly into the house?
These kits have a flexible aluminium 100mm duct which can be extended to 1.5m and there is a choice of external louvred grilles: in plastic there is terracotta and buff sandstone, plus a more heavy duty stainless steel grille with rain hood.
If you need a run of more than 1.5m then that is no problem but please contact us to order a custom external air kit.
Visit our Stove external air ventilation kits page, or click on the picture for more details