Stove external air ventilation kits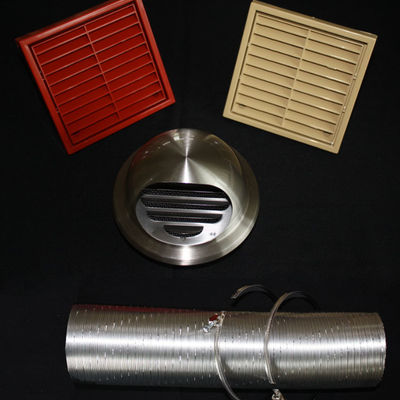 An increasing number of stoves can now come with an external air spigot which allows an external air duct to be connected to the stove which then supplies all or some of the air the stove needs to burn the wood. This can help to reduce draughts in the room and to maintain airtightness in modern homes. 
Here we have some external air kits to make it easy to run a duct out through the wall and then cover the end of the duct so that rain does not get in. The kits come in two sizes, 100mm or 125mm diameter, with associated flexible aluminium duct.
There are two duct lengths available: 1.5m and 3m. A plastic vent in buff or terracotta is available, or, for those more exposed locations, or where a more quality finish is required, you can choose the stainless steel vent and hood. Jubilee clips are included.
Model
Price
100MM EXTERNAL AIR KITS
EXTERNAL AIR KIT - BUFF. 100MM DIAMETER, 1500MM LONG
£35.00 inc. VAT
EXTERNAL AIR KIT - BUFF. 100MM DIAMETER, 3000MM LONG
£44.25 inc. VAT
EXTERNAL AIR KIT - STAINLESS. 100MM DIAMETER, 1500MM LONG
£80.00 inc. VAT
EXTERNAL AIR KIT - STAINLESS. 100MM DIAMETER, 3000MM LONG
£90.00 inc. VAT
EXTERNAL AIR KIT - TERRACOTTA. 100MM DIAMETER, 1500MM LONG
£35.00 inc. VAT
EXTERNAL AIR KIT - TERRACOTTA. 100MM DIAMETER, 3000MM LONG
£44.25 inc. VAT
100MM EXTERNAL AIR KITS del
1500MM EXTERNAL AIR KIT - BUFF
£35.00 inc. VAT
3000MM EXTERNAL AIR KIT - BUFF
£44.25 inc. VAT
125MM EXTERNAL AIR KITS
EXTERNAL AIR KIT - STAINLESS. 125MM DIAMETER, 1500MM LONG
£76.00 inc. VAT
EXTERNAL AIR KIT - STAINLESS. 125MM DIAMETER, 3000MM LONG
£84.50 inc. VAT
PLASTIC VENTS