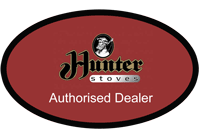 Hunter stoves are made in the UK and they have a history of making robust wood and multi fuel stoves that can really heat a whole house. Hunter stoves started out by making boiler stoves and they still do make a good range of boilers with some high output models too.
I used to heat my house with a Hunter Herald 14 wood boiler stove. The Hunter Herald 14 stove could certainly chuck out the heat, and did a great job of warming my 16C stone home, which of course needs plenty of heat. I hooked it up to an experimental thermal store which I had fabricated and it worked really well. Now our Energystore thermal stores have moved on a bit from that early prototype, but many of the principals still remain the same.
Many of Hunter's stoves are EcoDesign Ready and they have taken on the challenge of improving both combustion dynamics and the visual appeal of their stoves.