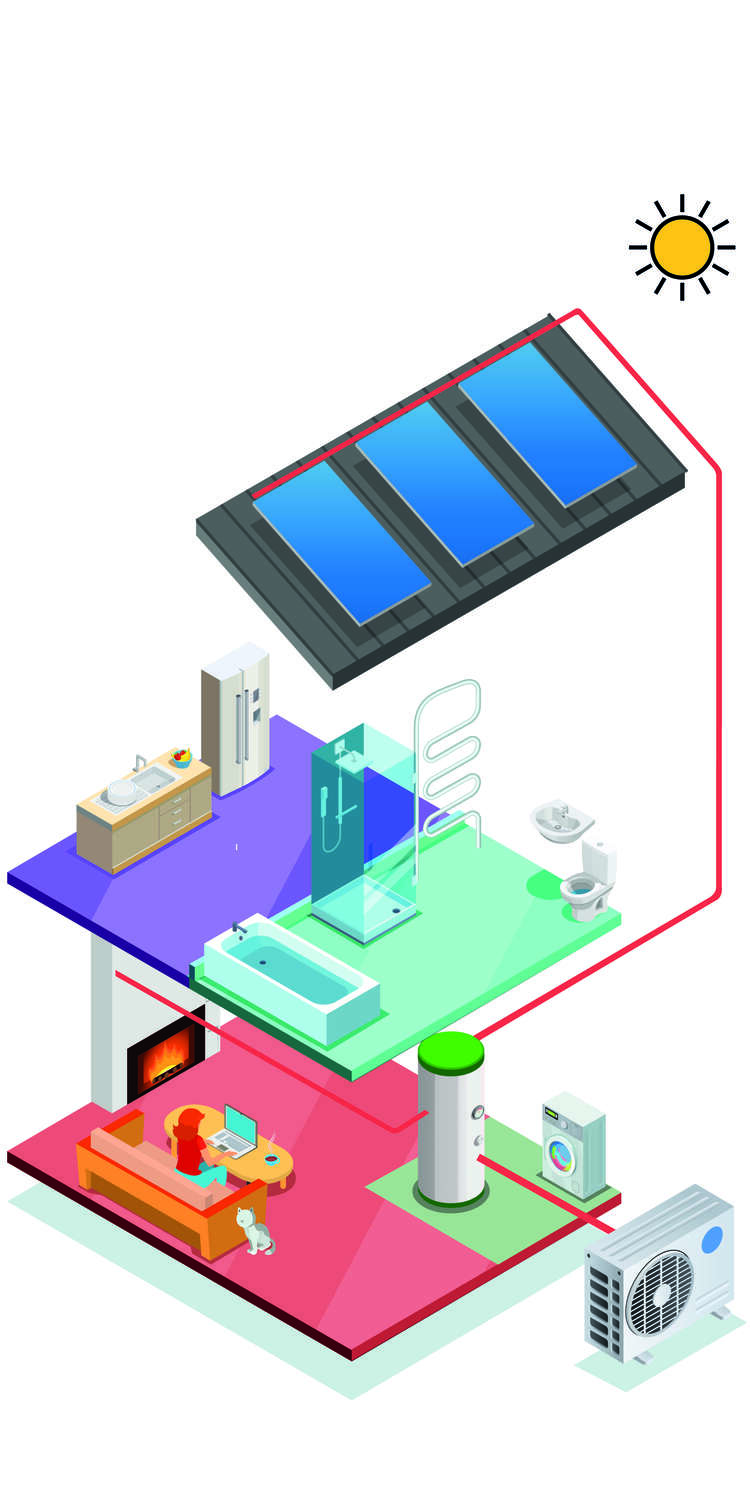 Heating System Design
Are you considering powering your home with a boiler stove or other types of renewable energy? If you are then system design is vital. It's the process of making sure that each element is of the right size and type, that each part will work well on its own and together, and of course that it's all safe.
Why use our Heating System Design Service?
The benefit is that you can be sure that the overall system is going to work as intended and provide you with hot water for showers as well as heating. It's also a good way to make sure that the renewable heat sources work as well as possible individually and as a linked system.
Years of experience, of adopting and incorporating new technology and approaches once they are tried and tested means we've come across, and solved, many challenges and niggles over the years. We work these solutions and safeguards in for you as standard to make the system safer and more reliable.
It's useful to you because you'll know that it integrates with your existing (or new) heating and hot water system, as well as any other heat sources you may have.
It's also handy for your installer/engineer as a guide to work to. Often they may have questions and suggestions for small changes and we can then use our schematic as the starting point for that discussion. It's very normal for the engineer to make some small tweak once they have been to your house, that's all a normal part of the process.
Definitely recommend Stovesonline. We purchased a stove, thermal store and associated parts! Stovesonline were fantastic from first inquires to fine tuning our bespoke heating system to maximise efficiency.
How does it work?
When you come to us wanting a renewable heating system, whether that is just a wood boiler stove or you want to integrate a pellet boiler with thermal store and heat pump then often one of the first things we will do is to do a heat load calculation. The heat load calculation lets us work out how much heat your home will need when it's at its coldest outside. That then lets us make sure that we size everything so that it can cope.
From there we'd then go on to talk with you about your home and the system you'd like to create. We'll often make suggestions for improvements. If we spot that your insulation could be a bit better then we'll tell you then you might be able to choose a smaller boiler from us (and so save a bit) and you'll spend less on heat every year.
We can only give out so much insulation and building-related advice so if more is needed then we suggest that you work with Greenlite Energy Assessors run by Richard Tibenham. He's an independent building consultant and will work with you to really optimise your home making sure that it's well insulated, that it won't overheat and that you are getting the most from the technology that you plan to install. This can save you a lot of money and make it a much more pleasant place to live in.
If we think something is a bad idea then we'll tell you and if we think anything is dangerous then we'll suggest alternative ways of doing things. We won't go ahead with any system which we think is dangerous.
Excellent service, I upgraded my central heating with the expert help of stovesonline. I dealt with multiple people from different departments in the company and they were all very helpful. I would definitely recommend to others. They were very helpful specifying exactly what I needed and gave excellent advise during the installation.
How much does it cost?
Heating system design is a standard part of our service it doesn't cost anything. We make our money by selling you renewable heating products and accessories and to cap it off our prices are competitive anyway.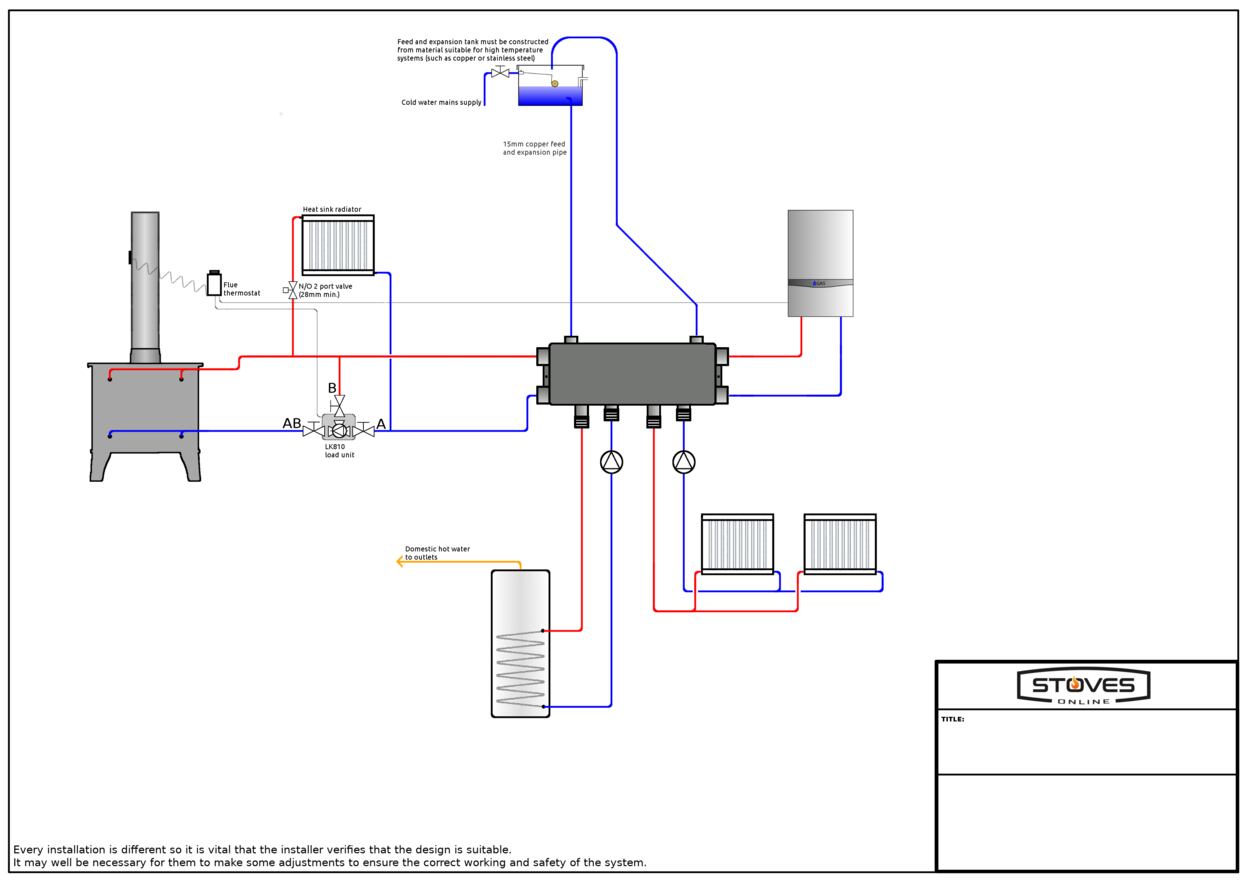 Frequently asked questions about renewable heating system design
How long does it take? The whole process can take anywhere from a week to a month, it depends on how complex a system you need and whether a site visit is needed by your engineer to double check any details. It's good to ask us as early on in the process as possible as there may be chimney, ducts or pipes that you need to install which you might not have considered.
What is the format of the schematic? We provide you with a pdf by email.
Is the schematic the exact layout of my heating system? No it's a more abstract representation that a heating engineer can follow.
Do you add every detail and component? No we just add the specialist components. The heating engineer will add in a few extra parts as required.
Get peace of mind that your new investment will work safely and as intended, even if there are a lot of renewable energy inputs.